Renewable energy will be the fastest-growing source of electricity in the United States over the next five years, according to this year's Energy Information Administration (EIA) "Energy Outlook." And that has smart investors looking for the best clean energy stocks in 2017.
While renewable energy offers investors the profit potential of a fast-growing trend, finding the best clean energy stocks can be tricky. Some of the most popular renewable energy stocks, like Gamesa Corporación Tecnológica SA (BME: GAM), trade on foreign exchanges where information can be hard to find and investors need a broker that allows foreign purchases.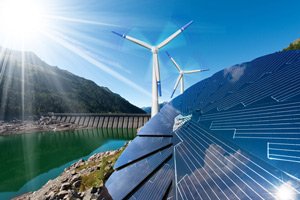 Other alternative energy stocks are also risky. Look at Broadwind Energy Inc. (Nasdaq: BWEN), for example. The company has a small market cap of $88 million and a razor-thin operating margin just above 1%.
To help our readers find the best renewable energy stocks, we're giving you our top clean energy stock pick for 2017. This stock is one of the best ways to profit from the triple-digit growth coming to the clean energy industry...
Renewables Can Take Over the Energy Sector
Alternative energy has two major advantages over fossil fuels.
First, clean energy sources, like solar and wind, are unlimited.
Supplies of crude oil, natural gas, and coal will not only run out in the future, but prices will rise as supplies dwindle. On top of that, as the easy-to-reach reservoirs of fossil fuels dry up, producers will have to turn to extracting fossil resources from even more difficult-to-reach areas.
This isn't a problem for clean energy. Energy from the sun or from the wind will never run out, which means once the technology needed to harness it is improved, renewable sources will be more efficient than fossil sources.
As global energy demand rises, the limitless potential of clean energy sources will be needed to fill the demand gap. The EIA estimates that demand for energy will grow by 25% by 2040.
Sign up for SMS so you never miss special events, exclusive offers, and weekly bonus trades.
This Could Make Big Oil Obsolete:

One gallon of this new fuel could produce enough energy to power a car for 42,325 miles. It's being hailed by many experts as energy's "Holy Grail."
Read more...
Second, renewable sources don't pollute the environment.
That's important, because consumers are demanding cleaner energy. CleanEdge found 87% of Americans believe renewable energy is important for the country. That's translating into governments across the world enforcing stronger regulations against carbon emissions from fossil fuel sources. The Paris Agreement of 2016 calls for a 2% reduction in carbon emissions from the 195 countries that signed on.
While renewable energy has these key advantages over fossil fuel sources, fossil fuels have always been cheaper. That's no longer true...
Clean Energy Is Now as Cheap as Fossil Fuels
The cost of fossil fuels will rise as supplies decline, while clean energy sources are becoming increasingly cheaper. Clean energy sources are now as cheap as fossil fuels in some regions.
The International Energy Agency anticipates that companies in fossil fuels will have to move into increasingly remote or challenging reservoirs because the easier-to-access supplies will eventually run dry. Both costs of production and the lack of resources will lead to rising prices.
At the same time, the price of alternative energy has dropped significantly. In 2016, according to Bloomberg, solar costs were just 1/150th of solar prices in the 1970s. Recently, the United Nations reported that alternative energy prices had fallen 10% during the past 12 months.
But the biggest development in clean energy costs is renewable energy achieving grid parity with fossil fuels. "Grid parity" means it costs the same to produce electricity using renewable sources as it does with traditional sources like coal and natural gas.
Money Morning Global Energy Strategist Dr. Kent Moors says that wind and solar have achieved grid parity with fossil fuels in some parts of the United States (electric power costs vary by region). In fact, according to the EIA, wind is the cheapest source of electricity among new power plants.
Trending: Why 2017 Is the Year for Investing in Renewables
The falling costs of renewable sources mean the industry is growing quickly.
Moors notes that the global production of solar has "doubled seven times" over the past 16 years. Wind has "doubled four times" during the same time.
While renewable energy production has grown rapidly as its costs have fallen, the future is looking even brighter.
According to the EIA, electricity produced by wind will grow 118% by 2040. And that pales in comparison to solar's growth potential. The EIA forecasts that electricity produced from solar sources will surge 376% by 2040.
Investors covet that sort of triple-digit growth, and owning the top clean energy stocks is one of the easiest ways to ride renewable energy's growth to once-in-a-lifetime profits. Here's our top clean energy stock in 2017, one that Wall Street analysts are projecting could reach double-digit gains this year alone...
Our Top Clean Energy Stock for 2017