A penny stock scandal can cause investors huge losses. Today, we're going to show you one such scam that lost a 77-year-old from California $100,000 of his hard-earned money. We'll also show you two crucial tips for avoiding similar scams...
Video
3 Strategies for Investing in Penny Stocks
The biggest reason penny stocks are a breeding ground for scams is their allure of huge, quick gains. Since penny stocks cost under $5 a share, they're capable of seeing double- or even triple-digit returns in a small window of time. For instance, Cumulus Media Inc. (Nasdaq: CMLS) surged 101.6% from $0.28 to $0.57 in May. That's a huge gain over just 22 trading sessions last month.
The possibility of large returns allows con artists to prey on unwary investors who don't know any better. Con artists trick investors searching for a quick payout into thinking they run a legitimate business. These scams are becoming more and more common, with the U.S. Securities and Exchange Commission (SEC) investigating over 1,300 companies for stock fraud between 2012 and 2014, according to The Wall Street Journal.
And one past penny stock scandal was indirectly linked to the current president of the United States...
How President Trump Was Indirectly Linked to a Penny Stock Scandal
Back in 2005, there was a penny stock scam involving the short-lived publication Trump Magazine that was found to be a "pump-and-dump" scheme. A pump-and-dump scheme is when a stock is aggressively marketed and advertised to unknowing investors who buy in and pump up the stock price. Once the share price inflates, the insiders behind the scam sell their stock for a profit and leave the duped investors penniless.
The scandal we're talking about involved a firm called Premiere Publishing Group Ltd. The company paid Donald Trump more than $850,000 in licensing fees to develop Trump Magazine and to initially distribute it to Trump real estate properties. Despite the initial plan of real estate-only circulation, Premiere CEO Michael Jacobson advocated newsstand sales. Ultimately, Trump Magazine's quarterly circulation rose to about 200,000.
Pot Profits: Forget Jeff Sessions! These Five Canadian Pot Stocks Are Set to Skyrocket. Click Here...
The magazine suffered financial difficulties for most of its publication history. Those were exacerbated by hikes in licensing fees to Trump from $120,000 during 2005, to $135,000 each issue a year later.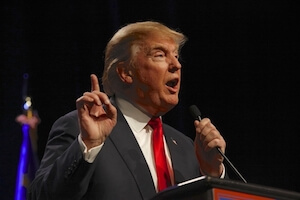 But Premiere ignored those losses and held an initial public offering (IPO) in 2006. The company pumped the stock by cold-calling and issuing newsletters falsely claiming Premiere was in talks with Walt Disney Co. (NYSE: DIS) to create a Trump cartoon. News magazine Fusion reported that one of Premiere's newsletters promised returns of 500% or even higher.
In August 2006, Premiere Publishing Group's stock (OTCBB: PPBL) debuted at roughly $1 a share. By the following month, the share price was trading at half of its IPO price. And after Premiere's first earnings report as a public company was released in July 2007, the stock crashed to mere pennies. That's because the company reported a ridiculously small $735 worth of cash reserves.
By August 2007, Trump terminated his licensing agreement, and Premiere went bankrupt. It had hemorrhaged $7 million in just 12 months as a publicly traded company.
Needless to say, any investor who bought Premiere shares lost all their money. Wade Cartwright, who at the time was a 77-year-old doctor living in California, bought $100,000 worth of PPBL stock after talking with a promoter and lost all of it.
"[A very friendly broker] said he had something that was very good," Cartwright told Fusion. "I lost every cent."
Despite the prevalence of scams like this, not every penny stock is dangerous. There are many ways to detect a fraudulent company and avoid losing your money to con artists. That's why we've developed two rules to follow for safe penny stock investing...
The 2 Best Ways to Avoid Penny Stock Scams