This list ranks the 15 top dividend aristocrats of the year by total returns, including one of our best dividend aristocrats to buy this year…
| | | | |
| --- | --- | --- | --- |
| Dividend Stock | Share Price | Annual Dividend | 2017 Return |
| C.R. Bard Inc. (NYSE: BCR) | $314.12 | $1.04 | +39.8% |
| Sherwin-Williams Co. (NYSE: SHW) | $351.65 | $3.40 | +30.7% |
| Abbott Laboratories (NYSE: ABT) | $47.49 | $1.06 | +23.5% |
| McDonald's Corp. (NYSE: MCD) | $149.74 | $3.76 | +23.1% |
| Medtronic Plc. (NYSE: MDT) | $87.32 | $1.72 | +22.7% |
| Stanley Black & Decker Inc. (NYSE: SWK) | $140.09 | $2.32 | +22.1% |
| MSA Safety Inc. (NYSE: MSA) | $83.36 | $1.40 | +20.4% |
| Illinois Tool Works Inc. (NYSE: ITW) | $145.29 | $2.60 | +18.6% |
| Pentair Plc. (NYSE: PNR) | $66.20 | $1.38 | +18.1% |
| PPG Industries Inc. (NYSE: PPG) | $111.29 | $1.60 | +17.4% |
| Universal Health Realty Income Trust (NYSE: UHT) | $76.70 | $2.64 | +16.9% |
| 3M Co. (NYSE: MMM) | $208.63 | $4.70 | +16.8% |
| Vectren Corp. (NYSE: VVC) | $60.69 | $1.68 | +16.4% |
| Eaton Vance Corp. (NYSE: EV) | $48.68 | $1.12 | +16.2% |
| Becton, Dickinson and Co. (NYSE: BDX) | $191.68 | $2.92 | +15.8% |
Dividend aristocrats are firms on the S&P 500 that have increased their annual dividend for a minimum of 25 consecutive years.
The top dividend aristocrat (by year-to-date gain) on this list is medical device manufacturer C.R. Bard Inc., which is up 39.8% so far in 2017 and pays $1.04 per share on an annual basis. But the stock with the highest dividend on the list is multinational conglomerate 3M Co. with an annual payout of $4.70.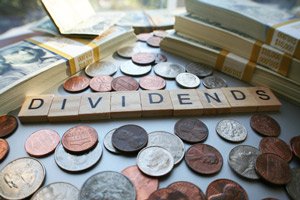 Although some of these top dividend aristocrats only pay around $1 per share each year, they can potentially make you a killing if you reinvest the dividend payments back into the stock…
For instance, let's say you invested $100 in the entire S&P 500 Index in 1940. If you didn't use the dividends to buy more shares of the stock, you would have grown your investment to $12,000 by 2012 – including the dividends that weren't reinvested. However, if you did reinvest those dividends, your investment would've grown to a stunning $174,000 over the same period.
That $162,000 difference is one reason Money Morning Chief Investment Strategist Keith Fitz-Gerald sees dividend investing as a great way to create long-term wealth.
"As you can see, dividends can work magic when it comes to reaching your financial goals and a safe retirement," Keith told Money Morning Members.
Must See: This Great Depression-Era "Secret" Helped Transform Two Teachers into Millionaires. Read more…
While we don't advise just throwing money at every dividend aristocrat, one of the companies listed above has been among Keith's top stocks to buy for over five years. Since first recommending it on Jan. 13, 2012, shares have skyrocketed 163.3% — and we expect them to go even higher this year.
Other analysts agree with our bullish stance. In fact, Thomson Reuters analysts predict this stock could post a double-digit gain over the next 12 months.
Here's our best dividend aristocrat to own this year…
One of the Top Dividend Aristocrats to Buy in 2017