American farmers are facing new challenges every day. The rise of large, mass-produced mega-farms and growing dependence on international trade has forced many producers to cut costs and take out huge loans to stay competitive - and those are the fortunate ones.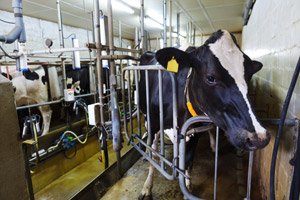 The United States has lost 109,660 farms since 2009, according to GoErie. Now there are just over 2 million American farmers tasked with feeding a nation of 318 million people, while exporting more than 20% of what they produce.
"I think there are some people who just get fed up with it, 14 hours a day for hardly enough money to get by on," said dairy farmer Dennis Rynd to GoErie on April 9.
Now, American farmers must cope with a whole new threat: robots.
Robots: Likely Working at a Farm Near You
According to a Jan. 19 report from Bloomberg, after three straight years of declining U.S. farm income, sources of human labor are becoming increasingly unreliable and costly.
Indeed, the supply of immigrant workers - who make up nearly half of the farming workforce in the United States - has been tightening. "Fewer [immigrants] are arriving illegally, and those who do come don't want farm work," said Craig Regelbrugge, co-chair of the Agriculture Coalition for Immigration Reform, to Bloomberg.
When you add the Trump administration's crackdown on illegal immigration into the mix, the result is a huge blow to American agriculture. According to the American Farm Bureau Federation, the biggest U.S. farmer group, an immigration policy focused on closing the border would shift up to 61% of fruit production to other countries, sending jobs to Mexico and other nearby competitors.
To make up for the scarcity of labor, more growers than ever are being forced to invest in machines that reduce human involvement in the production cycle. For many farmers, it's the only choice.
Related: Canada's Dairy Policy Is Killing Off Decades-Old American Farms  
"The trade-off isn't 'do you want a machine or do you want workers?'" said farmer Steve Tennes to Bloomberg. "It's 'do you want to be in business or do you not want to be in business?'"
"The machine shows up to work every day," said one fourth-generation farmer who started mechanizing in 2008 to Bloomberg. "The government is de-incentivizing ourselves from having labor," he said.
You see, as more producers convert to robotic technology, the robots will become so cost-effective that they will start to replace all American farm workers, instead of just the immigrant workers.
Money Morning Chief Investment Strategist Keith Fitz-Gerald has already seen this coming.
"I've been following [the robotics industry] since I've been with Money Map Press," Keith says, "and I think automation-based job losses are only five years away."
In fact, in other parts of the world like Japan, using robots to harvest fruit has already become cost-equivalent to human labor.
Video
The 5 Jobs That Robots Will Take First
"With strawberry picking being slow and labor-intensive, and labor scarce and expensive - the average agricultural worker in Japan is over 70 years old - the robot is likely to become the cheaper option," according to a 2016 report from Lux Research.
Now, the robot revolution has begun to spread to the United States...
Large U.S. corn plantations in the Midwest use automated driving systems for tractors that have already reached market penetration of around 10%, according to CNBC.
In California, farmers use "lettuce bots" to detect insects and weeds and spray pesticides only on infected areas while simultaneously saving the salvageable crops.
But the robot revolution doesn't have to be solely negative. In fact, it can be quite profitable for those who know where to invest...
How to Profit from the Rise of Robots
The global market for agricultural robots will explode to $73.9 billion by 2024, up from $30 billion in 2015, according to Tractica, a market intelligence firm. That's a 146.3% increase.
However, profiting from the robotics trend means knowing which way the chips will fall - whether a company will have a "make" moment or a "break" one. That's where Keith, a seasoned market analyst with over 34 years of experience, comes in.
He has put together a well-researched positioning plan for investors to follow so that they can cash in on the "robot gold rush" the right way. Have a look...
Editor's Note: "Must-have" companies backed by Unstoppable Trends are a cornerstone of Keith's wealth-building strategy. But there's another type of investment he wants Money Morning Members to know about. It's one of his favorites, a kind of "desert island fund" he'd buy if he had to park his money in one place, "retire" from civilization for 20 years, and come back to a pile of money. Click here to learn more...
Follow Money Morning on Facebook,  Twitter, and LinkedIn.