The price of gold today (Friday, June 23) is on track for its highest close in nine days as the metal climbs out of its recent Fed-induced gully. It's up 0.7% and trading at $1,258 per ounce - the highest level since June 14.
Investors are mostly buying into gold today because of the recent decline in riskier assets like stocks. Since Tuesday, June 20, the Dow Jones Industrial Average is down nearly 1% to 21,351.31 as the market reacts to falling oil prices. WTI has plunged to its lowest levels of the year this week, falling 4.1% to $42.62.
All of this has led investors to seek safe-haven assets like gold to hedge their portfolios.
But despite today's gain, there's no denying that gold's been struggling for the better part of the last two weeks.
Since peaking at $1,293 in early June, gold prices are down 2.7% to their current level. The only reprieve has been a short stall around $1,267 in the days preceding the Federal Reserve's rate hike on June 14.
The most obvious reason behind the decline has been the rising U.S. dollar. Since bottoming out on June 6 - the same day gold peaked - the U.S. Dollar Index (DXY) has managed a reasonable show of strength. It has climbed from 96.53 to 97.40 since that date.
Of course, it's easy to look at the Fed's rate hike and say the hike has been supporting the dollar.  And that's likely true. But take more than a cursory look at the dollar's technical indicators, and you can see that it had become oversold, making a rally of sorts unsurprising.
We'll look at these gold price drivers and how they'll influence our bullish price target in 2017 in just a bit. First, let's look at the metal's pivotal past week...
Gold Prices Set for Slight 0.3% Gain in the First Week After Fed Meeting
After settling at $1,253 on Friday, June 16, the gold price opened Monday, June 19, lower at $1,251. Like the previous week, gold headed steadily south but at a faster clip, to close 0.7% lower at $1,244.
Tuesday brought continued weakness, though it somewhat subsided. The price of gold opened at $1,245 but dropped to $1,243 by the close for a 0.2% loss. That was the lowest settlement since May 16.
As it turned out, the DXY's peak of 97.85 that day coincided with gold's bottom for the week...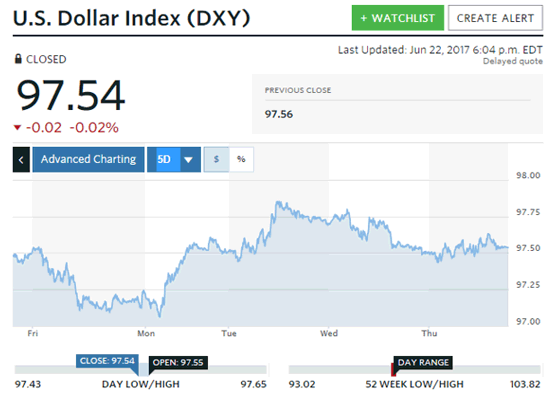 On Wednesday, June 21, the tides started turning around for gold prices. It was a welcome sign of life for the precious metal after reaching a five-week low the day before. Gold started the day higher at $1,245 and steadily inched toward $1,246 for a 0.2% gain by the close.
Overnight into Thursday morning, gold bounced up to open at $1,253.  The DXY kept backing off its Tuesday high, allowing the price of gold to reach $1,250 for a 0.3% gain on the day.
And the gold price today is up 0.7% to $1,258, putting the metal on track for a weekly gain of 0.3%. This would be its first weekly gain in three weeks.
Must See: An incredibly rare gold anomaly is shaping up in the markets as we speak -- one that has occurred ONLY twice in the past 20 years. And it's about to happen again. Details here...
I expect gold prices to keep moving higher from here. Although there may be some short-term pullbacks, like the one we've seen over the last two weeks, the long-term picture is fundamentally bullish.
Here are my bold gold price targets for the rest of 2017...
My Outlook for the Price of Gold in 2017
Join the conversation. Click here to jump to comments…
About the Author
Peter Krauth is the Resource Specialist for Money Map Press and has contributed some of the most popular and highly regarded investing articles on Money Morning. Peter is headquartered in resource-rich Canada, but he travels around the world to dig up the very best profit opportunity, whether it's in gold, silver, oil, coal, or even potash.