The gold price has been going strong over the long term, up 7.7% to $1,241 so far in 2017. But if you just look at its short-term price action, you'd be hard-pressed to find many bulls.
It's frustrating to watch gold prices and feel like they're not making any headway. And that's especially true in the current context of a weakening U.S. dollar, which normally helps boost the metal...
While the dollar has fallen from 97.30 to 95.76 this week, the price of gold is also on track for a 1.2% weekly loss.
Yet if you look at gold's price behavior from a technical perspective, there's evidence that it's actually holding up exceedingly well.
After nearing the $1,300 level on June 6 for the second time this year, gold has retreated once again. But it's quite possible we've now seen a new interim low as the metal gears up to make a new advance. I expect it to rebound at least 12.8% through the end of the year.
Let's take a look at all of these gold price happenings this past week. Then, I'll show you just how big the upcoming gold price rebound could be...
Price of Gold on Track for 1.2% Weekly Loss
After closing at $1,257 on Friday, June 23, gold saw wild volatility early Monday morning in what's being considered a "flash crash."
The metal saw a large volume of selling behavior, where 1.8 million ounces traded in just one minute. This was likely thanks to either a "fat finger" mistake - a trading error in which the trader enters an order incorrectly - or an intentional price smash.
Either way, gold prices plummeted from $1,255 to $1,242 within minutes, possibly exacerbated by automated computer trading once the key resistance level of $1,255 was breached. From there, gold spent the rest of the day mainly below $1,245 and eventually settled at $1,244.50 for a 1% loss.
Urgent: An incredibly rare gold anomaly is shaping up in the markets as we speak -- one that has occurred ONLY twice in the past 20 years. And it's about to happen again. Details here...
Here's how abruptly the price of gold plunged on Monday...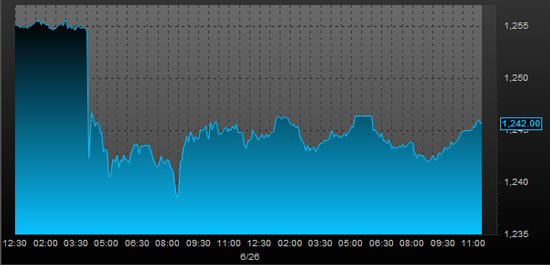 Then on Tuesday, June 27, the U.S. Dollar Index (DXY) dropped through the key support level at 97, which enticed users of other currencies to buy gold. The metal opened higher at $1,249 and steadied a little bit lower throughout the day to close at $1,247. That still marked a 0.2% gain from the previous close.
For reference, here's how the DXY has trended this past week...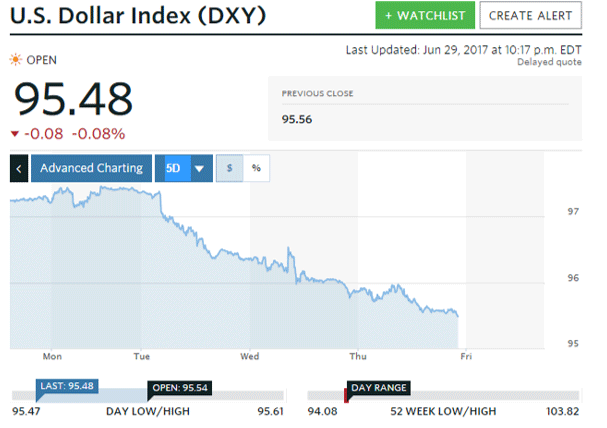 As the DXY continued to fall, gold benefited on Wednesday morning by opening at $1,252. But even the sustained drop in the DXY wasn't enough to support the gold price throughout the day. It fell back to $1,249 but still managed to gain 0.2% on the day.
On Thursday, June 29, the price of gold fell again on a minor DXY bounce that boosted the index to just under the 96 level. Gold opened lower at $1,242 but was able to edge a bit higher by the end of the session. It closed 0.3% lower at $1,245.
And the gold price today (Friday, June 30) is continuing yesterday's losses. It's down 0.3% and trading at $1,241. If it closes at that level, gold will post a weekly decline of 1.2%.
Looking over this past week, it's clear that the dollar's volatility has had the biggest effect on gold. That's why I want to take a closer look at the dollar's technical indicators - and how they could push gold prices to my bullish 2017 target.
Here's how high I see gold prices heading later this year...
My Bold Gold Price Prediction for the End of 2017
Join the conversation. Click here to jump to comments…
About the Author
Peter Krauth is the Resource Specialist for Money Map Press and has contributed some of the most popular and highly regarded investing articles on Money Morning. Peter is headquartered in resource-rich Canada, but he travels around the world to dig up the very best profit opportunity, whether it's in gold, silver, oil, coal, or even potash.