There's tremendous momentum in the legal cannabis sector right now. The boom is crackling with excitement and flush with money, reminiscent of the old California Gold Rush.
Call this the "Green Rush," where weed investors are pulling in profits hand over fist.
Yesterday, for instance, it was reported that the 50 licensed marijuana retailers in Nevada, which only went "fully legal" 12 days ago, are already running out of marijuana to sell.
And California is less than six months from opening a legal, recreational market that will dwarf all other legal weed states, plus the entire nation of Canada. I'll tell you why I'm expecting monster profits there in a minute.
But… one of my favorite legal weed plays has been in the news lately for an entirely different reason.
Now, it's not a grower, and it's not a retailer (I save those recommendations for my paid-up Nova-X Report subscribers as part of a comprehensive, well-balanced, 30-stock weed portfolio), but it will be one of the biggest, most important players in this boom sector, especially when California lifts the curtain on its market.
And I couldn't be happier with the price we're getting here…
The "Green Rush" Is Very Real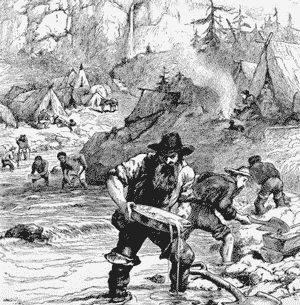 Comparing the legal cannabis sector to the legendary 1850s California Gold Rush might seem like hyperbole, but it's no idle boast.
Sure, plenty of forty-niners struck it rich, but the real fortunes went to the folks who sold the prospectors the things – tools, clothes, food, housing – they needed to chase their dreams of gold riches.
In fact, this is where we get the term "pick-and-shovel play" from.
Levis Strauss is a famous example. The Bavarian immigrant didn't pull an ounce of gold out of the ground, but he sold dry goods and, of course, well-made, reasonably priced denim overalls to the surging crowd of gold seekers hitting San Francisco at the time.
Today, Levi Strauss & Co. is a globally recognized brand (and a $4.5 billion company). You can't buy their stock, but I'm willing to bet you've bought more than a few pairs of jeans from Strauss' heirs.
In 2017, the profit potential in marijuana isn't much different… except for the fact that there's exponentially more money to be made.
Just like in the 19th century, 2017's "pick-and-shovel" cannabis plays will mint millionaires.
You can be one of them.
When Regulations Are Good for Stock Prices
Just a few weeks ago, I attended the fourth annual Cannabis Business Summit and Expo in Oakland, Calif., not too far from where I live. I tend to think of "Oaksterdam" as the "spiritual home" of the legal weed movement because of initial successes legalization advocates and activists had there in forming California's long-established medical marijuana industry.
The hottest profit trend on display at the expo wasn't growers, or dispensers, or even edibles, but compliance.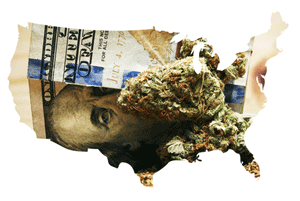 You see, it varies from state to state, but the legal cannabis industry has voluntarily embraced some pretty stiff regulatory regimes, not only to satisfy opponents like weed "Flat-Earther" Jeff Sessions, but also to ensure people are kept safe as they consume the product and to make sure everything is dealt above-board.
Join the conversation. Click here to jump to comments…
About the Author
Michael A. Robinson is a 35-year Silicon Valley veteran and one of the top technology financial analysts working today. He regularly delivers winning trade recommendations to the Members of his monthly tech investing newsletter, Nova-X Report, and small-cap tech service, Radical Technology Profits. In the past two years alone, his subscribers have seen over 100 double- and triple-digit gains from his recommendations.
As a consultant, senior adviser, and board member for Silicon Valley venture capital firms, Michael enjoys privileged access to pioneering CEOs and high-profile industry insiders. In fact, he was one of five people involved in early meetings for the $160 billion "cloud" computing phenomenon. And he was there as Lee Iacocca and Roger Smith, the CEOs of Chrysler and GM, led the robotics revolution that saved the U.S. automotive industry.
In addition to being a regular guest and panelist on CNBC and Fox Business Network, Michael is also a Pulitzer Prize-nominated writer and reporter. His first book, "Overdrawn: The Bailout of American Savings" warned people about the coming financial collapse - years before "bailout" became a household word.
You can follow Michael's tech insight and product updates for free with his Strategic Tech Investor newsletter.