Sears stock has rebounded more than 43% in the last month, but that does not mean this stock is turning around. Quite the opposite.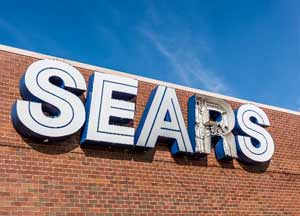 We still think Sears is headed toward bankruptcy. If you own it, get out. And if you think management can pull off a miracle, forget it. They can't.
Money Morning Capital Wave Strategist Shah Gilani told readers back in May about Sears' epic downfall. He even outlined a strategy to profit as Sears stock "lurches towards its deathbed." And despite the stock's recent rally, if you'd followed Gilani's plan, you'd still be up double digits.
All the reasons for this bearishness are still very much intact. Here's what he told you in May:
"Sears Chair and CEO Eddie Lampert's financial engineering experiment clearly has failed. He 'Frankensteined' Kmart and Sears together to form what can only be called a retail abomination. Sears Holdings has lost $10.4 billion since 2011. Excluding 'one-time charges' and 'events,' the loss is $4.57 billion."
Trending: The "Retail Ice Age" Investment Strategy That Everyone Is Missing
Since the beginning of 2012, Sears has seen its sales fall 44%, and the company has reported 21 straight quarters of losses.
Gilani also points out that same-store sales in the last quarter of 2016 (including the holiday shopping season) fell 10.3%.
The company is also bleeding cash. In the summer of 2015, SHLD had $1.8 billion in cash. By the end of 2016, it was down to $258 million.
Back in January, the company sold its iconic Craftsman brand to Stanley Black & Decker Inc. (NYSE: SWK) for $900 billion, although not all of it was in an upfront payment. Sears will still carry the brand in its stores, but now they must compete with other retailers to make any profit from it. And guess who else carries it now? Amazon.com Inc. (Nasdaq: AMZN). Great for Stanley shareholders, but not so much for Sears shareholders.
After its terrible "softer side of Sears" push into clothing, the meat of its business remained in hard goods such as Craftsman tools, Kenmore appliances, and Die-Hard auto batteries. If you're keeping score, that's one down, two to go.
Selling off a core business usually means trouble. The company clearly needs cash, so much so that this week CEO Lampert gave the company $200 million from his own hedge fund. The stock shot up 12% when the news broke July 17.
The stock jumped another 14% July 20 on news that Kenmore appliances would be available on Amazon. And they will be "Alexa enabled," allowing them to be controlled remotely via Amazon's virtual personal assistant. The partnership marks Amazon's move into the large appliance business, one of the few areas of retail where it has yet to dominate.
And while the partnership has some investors bullish, it's no reason to buy shares of Sears stock...
 Sears Stock Is Doomed Despite Recent Uptick