In Johnson & Johnson news, the stock is down 1.3% over the last five trading days, and that makes this the perfect time to buy this dividend aristocrat...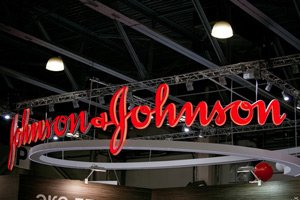 The pullback was caused by two analysts downgrading Johnson & Johnson (NYSE: JNJ) on July 21, but analysts simply don't know how to value JNJ stock.
BTIG Research downgraded JNJ from "Neutral" to "Sell" because it doesn't think Johnson & Johnson will be able to successfully execute its medical device acquisition.
Alembic Global Advisors downgraded the company from "Neutral" to "Underperforming" but didn't release its rationale.
But Money Morning Director of Technology & Venture Capital Research Michael A. Robinson says JNJ stock is a "foundational holding," one every investor can add to their portfolio. And it's a company analysts consistently get wrong...
Analysts Don't Know How to Value Johnson & Johnson Stock
While JNJ stock fell over the past week over an analyst downgrade, Robinson says analysts simply don't know how to value JNJ.
You see, BTIG Research focused on JNJ's medical device acquisition, but Johnson & Johnson isn't just a medical device company.
JNJ's pharmaceutical division has a strong drug pipeline of 16 treatments that it developed in-house. And it bought Actelion's pipeline in January for $30 billion.
Medical Breakthrough: So small, yet so powerful, this microscopic DOT is about to impact 7 billion people - and create one of the biggest disruptions in human history. Learn more...
"Johnson & Johnson and some of its partners announced plans to file for regulatory approval for a whopping 10 potential blockbuster drugs (good for $1 billion in sales a year) over the next four years," said Robinson in May.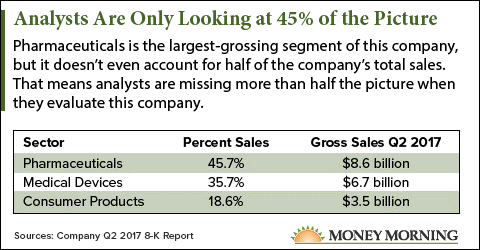 Those drugs could potentially expand its already large pharmaceutical revenue.
Currently, JNJ pharmaceutical sales of $8.6 billion account for about 46% of the company's overall revenue. Its medical devices division accounts for 36%, and consumer products sales add about 18%.
While pharmaceuticals is Johnson & Johnson's highest-grossing division, it is just one part of the picture.
This company is a triple threat, and that means Wall Street analysts just don't know how to value it. Some treat it like a pharmaceutical company, and others treat it like a consumer staple. But Robinson says this confusion is to your benefit.
"The stock is trading at a deep discount right now and is just too tempting to pass up," according to Robinson...
Buying JNJ Stock Before Aug. 25 Will Increase Your Gains by 2.57%