Hot penny stocks can bring investors double-digit returns in a short amount of time. For instance, AVEO Pharmaceuticals Inc. (Nasdaq: AVEO) surged 332%, from $0.73 to $3.15, from June 22 to July 10. That means any investor who bought in on June 22 more than quadrupled their initial investment in less than three weeks.
But top-performing penny stocks can also sometimes post big gains for bad reasons.
One example is Hongli Clean Energies Technology Corp. (Nasdaq: CETC), which climbed 144% in just one week, rising from $1.90 on March 31 to $4.63 on April 7. The rally ended abruptly when Nasdaq froze Hongli's trading, and the firm soon became the defendant in a class action lawsuit...
Rosen Law Firm - the investor rights law firm behind the lawsuit - alleges the company misled investors who bought CETC shares between Oct. 13, 2015, and April 7, 2017. During that time, Hongli supposedly falsified undisclosed parts of its financial reports. If Rosen loses the lawsuit, CETC investors could possibly lose some or all of their initial investment.
Cases like Hongli show why it's crucial for potential investors to know if a hot penny stock is legitimate and safe to add to your portfolio.
Here's one of the most important ways to determine the safety and profitability of a penny stock...
1 Way to Assess the Safety and Profitability of Hot Penny Stocks
To figure out if a penny stock is financially safe and profitable, you have to dig into the company's 10-K filing.
A 10-K is annually submitted to the U.S. Securities and Exchange Commission (SEC) and comprehensively summarizes the company's financial health. It outlines everything from the firm's earnings, revenue, outstanding shares, and, most importantly, executive compensation.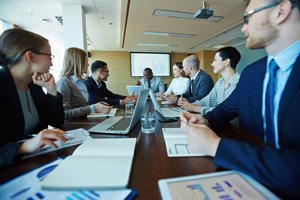 The "Executive Compensation" section - typically found under part III of the 10-K - is important for our purposes because it shows how the CEO and other upper-level management members are paid. If you're looking into it and see the executives are mostly compensated in stock options, it shows they're dedicated to the firm's growth. After all, their options can only be as valuable as the company's stock price, and that means they need the company to succeed.
But if the executives are paid only in cash, they don't have a stock incentive to make sure the company performs well over the long term. This is a red flag because it indicates the executives may just be looking to cash in on the company before the stock falls to $0 and the firm goes bankrupt.
In summary, if a company's executives aren't invested in its performance, then it might be too risky to invest in. This is one of the easiest ways to determine if a penny stock is right for your portfolio.
But these 10-K filings can be quite intimidating, even though they are a crucial part of researching the best penny stocks to buy. They can be up to 100 pages in length, and they're often written by accountants who use technical language that can be difficult for retail investors to interpret.
BREAKING: New Legislation Could Turn Tiny Pot Stocks into Millions. Click Here...
Fortunately, Money Morning Small-Cap Specialist Sid Riggs likes to do this research for our readers.
And Sid - whose April 19 small-cap pick has given Money Morning Members a 31.9% return since then - is recommending another one of the best small-cap stocks to buy in 2017.
Today's pick is a company that develops and sells medical devices. Three of its products received U.S. Food and Drug Administration (FDA) approval between 2010 and 2012 alone; one of these is the first at-home HIV test sold over the counter.
This gives the firm a profitable advantage over other firms trying to sell similar tests. In fact, this edge is largely responsible for the stock's stunning 101.2% rise so far in 2017.
But Sid doesn't see the rally ending anytime soon, due to the firm's reputation for consistently smashing earnings projections...
Over the last four quarters, this medical device company has beaten analysts' expectations by an average of 57.6%.
In other words, Wall Street has repeatedly lowballed its profitability, making now a perfect opportunity to buy in...
This Is One of the Best Stocks to Buy in 2017