President Donald Trump just executed another step in a North Korea plan he shared back in the 90s.
Trump lashed out at North Korea yesterday (Aug. 8), claiming if it doesn't halt its nuclear aspirations ASAP, the regime risks "fire and fury... the likes of which this world has never seen before."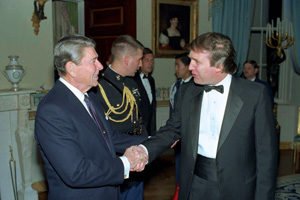 POTUS' declaration came late Tuesday afternoon in response to a classified report obtained and made public by The Washington Post earlier that day. The dossier in question revealed that North Korea had recently produced a viable, miniaturized nuclear warhead - an atomic bomb small enough to fit inside the tip of long-range missiles.
While Trump's fiery assertion yesterday surprised some political pundits and media outlets, we're guessing they didn't make the same connection we did.
Trump's threat on Tuesday was simply the next - and perhaps last - step in a plan that he first outlined for the public almost 20 years ago - in 1999.
You see, that's when Donald Trump initially revealed just how - were he to become president one day - he would deal with North Korea's nuclear advancements and its ongoing threats of war.
When you see how his words then match his actions now, it's clear that Trump will either use these threats to bring North Korea to the negotiating table... or he will follow through on them.
Have a look.
Trump's Art of the Deal with North Korea
In a 1999 "Meet the Press" interview, Trump told host Tim Russert that, were he ever one day tasked with countering North Korea as a U.S. president, he'd "negotiate like crazy" with the country first.
"Wouldn't it be good to sit down and really negotiate something [with North Korea]?" Trump asked Russert. "And I do mean negotiate."
Indeed, Trump mentioned this point a few times during his presidential campaign.
In January 2016, for example, he told FOX Business Network that he'd first pressure China into controlling North Korea's nuclear activity, and then he'd try to talk to Kim Jong Un himself.
"Nobody talks to him, other than of course Dennis Rodman," Trump said, "That's about it."
Don't Miss: Trump's Secret Weapon Set to Foil China's Master Plan
In May of that year, the then-presidential hopeful told Reuters again about how he'd chat with Kim Jong Un in an attempt to broker some kind of peace deal. "I would speak to him," he told the media outlet. "I would have no problem speaking to him."
In his interview with Russert, however, Trump added a quick addendum to his negotiation proposal...
That if the "negotiation [with North Korea] doesn't work, you'd better solve the problem now than solve it later."
To this point, Russert responded by asking if Trump meant a preemptive strike, noting that nuclear fallout from such an attack could be "devastating to the Korean Peninsula."
Trump explained that he didn't mean a "nuclear preemptive strike" - only an attack that could ostensibly take out Pyongyang's missile systems.
What's more, Trump even indicated that the threat of attack may be more useful than the attack itself:
"If they think you're serious, they'll negotiate, and it'll never come to that."
Time will tell how seriously Kim Jong Un will choose to take the president, but one thing is clear: To President Trump, the only alternative to negotiation is a military strike.
How to Profit from Trump's Tough Stance on North Korea
President Trump has long understood the threat that North Korea poses to the American public.
Under his administration, the U.S. military has been constructing defense systems, upgrading weapons, and building airships and watercraft, among various other projects.
This means that the American people aren't the only ones who benefit from Trump's defense spending...
We're talking about Lockheed Martin Corp. (NYSE: LMT).
Lockheed is one of Money Morning Executive Editor Bill Patalon's favorite defense stocks.
Bill has been studying and covering developments in the "Asian arms race" since 2013. And he knows better than anyone that Lockheed is a key player in both the U.S. military's THAAD defense system on South Korea's shores and its Aegis ballistic missile defense systems positioned aboard American warships.
In fact, the security and aerospace corporation is so involved in protecting the United States and its allies against North Korean threats, it's had a hand in almost every defense project the military has made thus far.
And LMT's share price just keeps rallying as a result.
Today it's at $304.88 - up over 20% year to date.
And since Bill first recommended LMT in March 2016, its price has gone up 37.6%.
Find out how you can get access to more of Bill's winning stock picks here...
Trump's Secret Weapon Against Chinese Aggression: Hostilities in the South China Sea now seem imminent, and the Trump administration could be on the verge of its first major crisis. But thanks to a small $6 U.S. defense firm with a top-secret new technology, China is about to be taken to the woodshed. Frankly, you have to see it to believe it...
Follow Money Morning on Twitter, Facebook, and LinkedIn.
Related Articles:
[mmpazkzone name="end-story-hostage" network="9794" site="307044" id="138536" type="4"]