U.S. Attorney General Jeff Sessions, longtime opponent of marijuana, just revealed how little he knows about the drug in a public display of ignorance.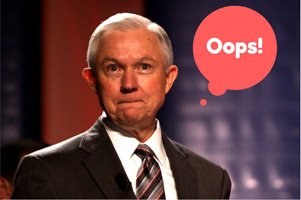 In late July, Sessions sent threatening letters to states that have legal marijuana laws in place to expand his crusade against cannabis.
According to The Huffington Post, the letters questioned the efficacy of their marijuana legalization and regulatory programs.
However, it seems Jeff Sessions didn't bother to fact-check his arguments.
And now, the states he has tried to intimidate are revealing all of the inconsistencies and errors in his letters.
Some of them are just downright embarrassing...
State-Level Regulation Is Working, Contrary to Sessions' Claims
One of Sessions' criticisms was that state-level regulation of marijuana is insufficient.
"I recently read the 2016 report by the Northwest High Intensity Drug Trafficking Area (HIDTA), entitled 'Washington State Marijuana Impact Report'," said Sessions in his July 24 letter to Washington state officials. "This report raises serious questions about the efficacy of marijuana 'regulatory structures' in your state," Sessions added.
Washington Gov. Jay Inslee and Attorney General Bob Ferguson quickly fired back.
"We disagree with a number of conclusions in your letter," they said in an Aug. 15 letter to Sessions.
Inslee and Ferguson went on to explain that Washington state has met all the requirements set by Jeff Sessions' Department of Justice (DOJ). In other words, "you've got nothing on us."
"We would like to offer you another source of information and data as to how our regulatory system is working," said the letter. "We invite you to review the enclosed publication, 'Marijuana Legalization in Washington State.' It describes how our state's regulatory system is designed specifically to meet the DOJ's Cole Memorandum guidance and promote the enforcement priorities that we share with DOJ."
Indeed, since adult possession of marijuana became legal in Washington, the state has benefited from a dramatic decrease in marijuana arrests and convictions, as well as increased tax revenue. What's more, the state has also experienced a decrease in violent crime rates, according to "Marijuana Legalization in Washington State."
Inslee and Ferguson also reiterated the fact that Washington is committed to keeping legal marijuana safe – no matter what Sessions claims.
"As issues become apparent, Washington continues to refine and improve our laws," said the letter. "Just a few days ago, a new statute took effect that further restricts marijuana advertising, prohibiting advertisement targeting youth or persons outside of the state."
Washington is clearly in this for the long haul; Islee and Ferguson aren't going to roll over on legalization just because Sessions read a report. As we at Money Morning already know, the end of marijuana's prohibition is a foregone conclusion – there is no stopping it.
Special Report: Cannabis Is the Gold Rush of the 21st Century - 30 Stocks to Invest in Now. Details here…
Whatever "serious questions" Sessions had about marijuana regulation in Washington, the state's leadership has answered them. And that's not even the most embarrassing part...