One of the top marijuana stocks on our watch list today has climbed over 1,000% since May 10, 2013, and will keep climbing because of this one stat…
According to a July 2017 Gallup poll, 45% of Americans said they have tried marijuana.
This is more admitted cannabis use than ever before. In fact, in a 1969 Gallup poll, only 4% of those surveyed admitted to using cannabis. This growing acceptance will continue to be a massive catalyst for the medical marijuana stock we will show you today.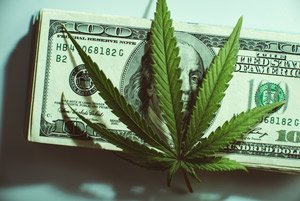 You see, cannabis use is becoming less taboo thanks to its use as a medicine. According to a New England Journal of Medicine study published in 2013, eight out of 10 doctors approve the use of medical marijuana.
Currently, 29 states and the District of Columbia have some sort of legalized medical marijuana.
And as more states fight to legalize cannabis for medicinal use, this medical pot stock could skyrocket by triple digits…
Marijuana Stocks Can Keep Skyrocketing Thanks to Idaho, Missouri, and Utah
Currently, Idaho, Missouri, and Utah do not have any form of medical marijuana legalization.
The Best Pot Stocks: After months of research, we've found the most lucrative and fastest-growing legal pot stocks in America. And for a limited time, you can get all the details for free. Learn more…
But according to BallotPedia.org, the three states all have medical marijuana initiatives that "may appear" on ballots on Nov. 6, 2018.
Some of these initiatives are more detailed than others, but here's what we know so far…
In Idaho, qualifying patients who have chronic diseases or who are terminally ill would be exempt from criminal penalties for cultivating marijuana. Patients would be allowed to have possession of 24 ounces of cannabis and 12 marijuana plants.
In Missouri, state-licensed physicians would be allowed to recommend marijuana use to patients if the ballot measure passes.
Video
Which States Will Legalize Marijuana Next?
Medical marijuana in Missouri would also be taxed at 4%, and the tax revenue would be used to provide healthcare services for veterans.
Finally, under the "Utah Medical Marijuana Initiative," the Utah State Department of Health would issue medical marijuana cards no later than March 1, 2020. In a 14-day period, patients would be allowed to buy either two ounces of unprocessed marijuana or a marijuana product with no more than 10 grams of THC, the psychoactive ingredient in cannabis.
If the residents of those states vote to legalize medical cannabis, 32 states will have legalized medical marijuana.
And with legalized medical cannabis potentially in 64% of the country by 2018, this pot stock could climb another 110% in the next 12 months.
But the only way to capture those gains is to know about this stock…
This Marijuana Stock Could Soar Triple Digits in the Next Year