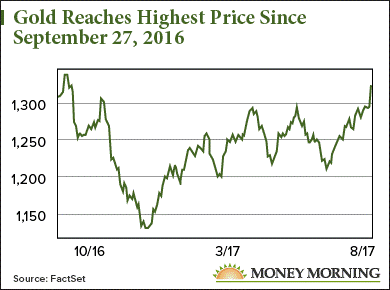 After rising 1.3% to an 11-month high of $1,315.30 yesterday, the price of gold today (Tuesday, Aug. 29) is climbing again following North Korea's latest missile launch. Gold prices are up another 1.1% today to $1,329.10.
While gold investors are focused on this North Korea news right now, Money Morning Resource Specialist Peter Krauth is watching a different gold price catalyst...
This catalyst is a U.S. government deadline (just one month away) that could be responsible for the next gold price rally in 2017 if members of Congress don't agree on an important issue.
If they don't, we could see a stock market sell-off as big as 2.7% in one month. This would be bullish for gold prices, as investors buy precious metals as a hedge against stock losses.
First, here's why North Korea's latest missile launch is sending the gold price higher today...
Why the Price of Gold Is Up 1.1% After North Korea's Missile Test
Gold prices are up 1.1% today and trading at $1,329.10 after the rogue nation launched its 18th missile test of 2017 last night.
Previously, the gold price hadn't reacted at all to North Korean missile tests this year. The country has conducted 11 different tests since April 4. For those 11 tests, the average gold price movement for the session immediately following the tests has only been a gain of 0.1%.
But the metal is rallying today because yesterday's missile crossed directly over Japan and landed in the sea, which caused Japanese citizens in its path to take cover. While North Korean missiles have reached Japanese airspace before, yesterday's was the first since 2009 and third since 1998.
"North Korea's reckless action of launching a missile that passed over Japan is an unprecedented, serious, and grave threat," Japanese Prime Minister Shinzo Abe said.
This was North Korea's most provocative move yet, sending the Dow Jones down 0.2% and gold up 1.1%.
Look for the X: This mysterious "X" pattern predicts which stocks are going up - with 100% certainty. Some have gained as much as 225% in 15 days and 264% in less than a month. Learn more...
While this missile test in North Korea is having a short-term impact on gold, Peter is looking ahead to a government event on Sept. 29. This event involves U.S. government officials coming together to agree on an important issue.
And if they don't, it would likely cause a much bigger stock market decline than today's 0.2% drop. In fact, this September event could drag the Dow Jones 2.7% lower or more in just one month - a move that could also push the price of gold to Peter's bullish target by the end of the year.
Here's how this rapidly approaching government deadline will reward gold investors...
This Upcoming Event Could Boost Gold Prices in 2017