The price of gold closed out the month of August with a strong rally last week following North Korea's most provocative missile test of the year. Gold climbed 4.3% last month and posted a weekly gain of 2.5% between the Friday, Aug. 25, close and the Friday, Sept. 1, close.
On Monday, Aug. 28, North Korea launched a missile that crossed directly over Japan before falling into the sea. This was the first North Korean missile test to cross Japanese territory since 2009, and it was enough to push investors to buy safe-haven gold throughout the rest of the week.
Japanese Prime Minister Shinzo Abe called the missile test an "unprecedented, serious, and grave threat," causing gold prices to reach $1,330 by Friday, Sept. 1. The metal hadn't crossed the $1,300 mark since Sept. 27, 2016.
The gold price today (Tuesday, Sept. 5) is up another 0.7% to $1,339 following yet another North Korean weapons test on Sunday. This time, the country tested a hydrogen bomb that was considered to be the most powerful nuclear test to date.
On top of North Korea's fear-inducing weapons tests, stalling jobs gains and a looming debt ceiling have also lifted gold. It's becoming clear from last week's rally that the price of gold established a floor at the $1,210 low seen on July 7.
That being said, gold's tremendous run higher hasn't taken a breath. A short-term pullback at this juncture wouldn't be a surprise.
But in the long run, I'm still overwhelmingly bullish. That's why I'm going to show you exactly where I see the gold price heading before the end of 2017.
First, let's look at gold's 2.5% rally last week...
Price of Gold Gains 2.5% to a Near One-Year High Last Week
After settling at $1,298 on Friday, Sept. 25, gold opened higher on Monday, Aug. 28, after reports emerged that North Korea had fired a missile over Japan. This pushed gold prices steadily higher throughout the session to close the day at $1,315 - up 1.3% from the Sept. 25 settlement.
The metal rose even further on Tuesday, Aug. 29, but it was mostly before the open. After starting the session at $1,320, it weakened slightly from there, as the U.S. dollar climbed from 92.21 to 92.25. But the gold price still managed to rise 0.3% from the previous session to close at $1,319.
Wednesday was marked by gold volatility as the U.S. Dollar Index (DXY) climbed toward the 93 level. This dragged gold lower throughout the day, eventually closing down 0.4% at $1,314.
Here's a look at the DXY's performance over the last five sessions...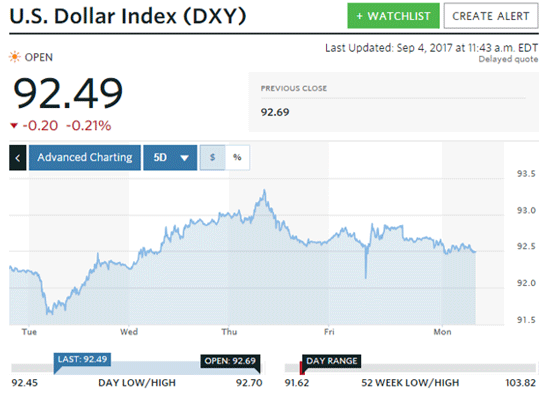 On Thursday, Aug. 31, gold saw an early morning dip to test the $1,300 level, but quickly reversed to $1,306 at the open. As the DXY lost nearly 80 basis points throughout the day, gold prices climbed to $1,322 by the close. That marked a 0.6% jump for the day and a 4.3% gain for the month of August.
The price of gold kicked off September on a strong note thanks to the dollar's volatility. The DXY briefly dropped 30 points from 92.52 to 92.22 that morning, which pushed gold higher. It climbed 0.6% to close at $1,330. With that, the metal also posted a weekly gain of 2.5%.
Life-Changing Profits: This investing strategy has racked up 30 triple-digit wins so far this year - and 46 in the last 12 months. To learn how to get in position for the next one, click here now...
Gold prices today (Tuesday, Sept. 5) opened higher following the Labor Day holiday and North Korea's hydrogen bomb test Sunday. The test has dragged the Dow Jones 0.8% lower today while investors moved their money into gold as a hedge against volatility. Gold is up 0.7% and trading at $1,339.
After last week's exceptional 2.5% gain, investors want to know what to expect the rest of the year. With a leader as unpredictable and volatile as Kim Jong Un, it's hard to say how North Korea's conflict with Japan and the United States will impact the gold price moving forward.
However, there are some underlying fundamentals in the gold market that I think will boost the metal toward my bullish price target this year.
Here's how high I see gold reaching by the end of Q4 2017...
My Bullish Target for the Price of Gold in 2017
Join the conversation. Click here to jump to comments…
About the Author
Peter Krauth is the Resource Specialist for Money Map Press and has contributed some of the most popular and highly regarded investing articles on Money Morning. Peter is headquartered in resource-rich Canada, but he travels around the world to dig up the very best profit opportunity, whether it's in gold, silver, oil, coal, or even potash.