Silver prices have been outpacing gold's already nice gains over the last month, and they are heading even higher in 2017…
In August, the price of gold climbed 4.3% while the silver price rallied 5%, capping off a great month for the metal.
In fact, the price of silver today (Wednesday, Sept. 6) just crossed above the $18 mark for the first time in nearly five months. It's currently up 0.6% to $18.04 – the highest since April 20.
Silver's rally has been fueled by many of the same reasons as gold's rally. North Korea's two weapons tests – the Aug. 28 missile test that crossed Japan and the Sept. 3 hydrogen bomb test – have stoked fear among investors. The Dow Jones is down 0.7% since last Friday, as worried investors have pulled out of the market and poured into precious metals.
North Korea's unpredictability – combined with the Sept. 29 debt ceiling deadline – are all bullish for both gold and silver prices moving forward. Both metals spike in demand when the stock market is expected to take a downturn, and those two factors could be bearish for the broader market.
Silver consistently charged higher this past summer. Prices went from a 15-month low of $15.37 on July 7, to $16.25 on Aug. 4, to today's five-month high of $18.04.
While these gains are exciting, such a strong rally will likely lead to a short pullback. But remember, these brief declines are healthy when silver is on an unstoppable run higher.
Today, I'm looking more at where the silver price will be by the end of the year. I'm going to show you just how high I see it running before the end of Q4 2017.
First, let's look at silver's 4.5% rally last week…
Silver Prices Climb 4.5% Last Week (Aug. 25 – Sept. 1)
After closing at $17.05 on Friday, Aug. 25, the price of silver opened last week higher at $17.23. It rallied throughout the session on Monday, Aug. 28, after North Korea made global headlines by launching a missile over Japanese territory.
This missile test was the first to cross over Japan in eight years, sparking a silver buying spree among investors. Prices eventually settled at $17.44 for a big 2.3% gain from the previous close.
On Tuesday, Aug. 29, silver managed to climb higher in the premarket hours, reaching $17.53 by the open. But the U.S. dollar climbed nearly 100 basis points throughout the day, which dragged the silver price back toward the Monday close. It moved mostly flat from there and closed the day just 0.05% lower at $17.43.
This chart shows how the U.S. Dollar Index (DXY) – which measures the dollar against several other currencies like the euro and Japanese yen – performed between Tuesday, Aug. 29, and Tuesday, Sept. 5…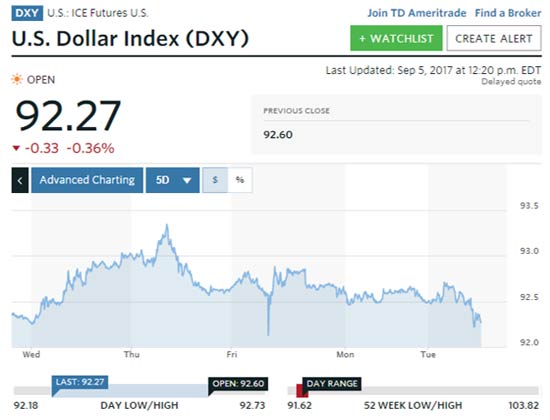 The price of silver saw another small loss on Wednesday, as the DXY rallied from 92.25 to 92.88 by market close. Silver responded by opening lower at $17.37 and drifting sideways to close at $17.40. That marked a 0.2% decline from Tuesday's $17.43 close.
Thursday finally brought more silver gains, as the dollar peaked above 93.40 and fell back to 92.67 by the close. That caused the silver price to open lower at $17.32 before climbing to $17.58 by the end of the day for a 0.9% gain. With that, silver posted a gain of 5% for the month of August.
On Friday, Sept. 1, silver prices started the day lower at $17.50. But that weakness didn't last long, as prices shot up to $17.66 by midday. The metal eventually closed at $17.82 for a 1.4% rise for the day and a 4.5% gain for the week.
Urgent: Executive Editor Bill Patalon just saw something on his precious metals charts he's only seen twice in 20 years. He calls it the "Halley's Comet of investing" – and it could lead to windfall profits. Read more…
Sunday's news of North Korea's underground hydrogen bomb test sent silver soaring over the Labor Day holiday and into yesterday (Tuesday, Sept. 5). Silver prices climbed 0.7% throughout the day to settle at $17.94.
The silver price today continues the recent rally as the metal reaches above the $18 level for the first time since April 20. It's up 0.6% and trading at $18.04.
Looking at last week's 4.5% gain, it's clear any future weapons tests out of North Korea could be bullish for the silver price in 2017.
But even without North Korea's continued hostility, I see the metal heading much higher by the end of the year, even if it sees a bit of weakness in the next month or so.
Here's my silver price outlook…
My Bullish Silver Price Target for the End of Q4 2017
Join the conversation. Click here to jump to comments…
About the Author
Peter Krauth is the Resource Specialist for Money Map Press and has contributed some of the most popular and highly regarded investing articles on Money Morning. Peter is headquartered in resource-rich Canada, but he travels around the world to dig up the very best profit opportunity, whether it's in gold, silver, oil, coal, or even potash.