The silver price has been looking extremely bullish the past two weeks.
After hovering near the $17 level from Aug. 17 to Aug. 25, silver prices pushed all the way to a five-month high last week. Between Friday, Sept. 1, and Friday, Sept. 8, the metal climbed 1.7% to $18.12 - the highest settlement since April 19.
That was 6.1% above the 200-day moving average of $17.08, which has served as a sort of resistance level. By surpassing $17.08, silver looks poised to go higher.
But first, I expect we'll see the price of silver retreat from here in the short term. A pullback following a 14.4% rally in just two months would be healthy at this juncture.
In fact, I think we have already seen a start to this move, as a possible bounce for the U.S. dollar may be in the cards. The U.S. Dollar Index (DXY) - which tracks the dollar against other currencies like the yen and the euro - is already up from 91.35 to 92.07 today (Tuesday, Sept. 12).
Trending: Want to Retire at 60? Here's Your Action Plan
A strong contrarian signal has emerged suggesting the dollar could be due for a near-term rally. If that happens, the silver price could face some temporary headwinds before resuming its climb higher (I'll show you my exact silver price prediction in just a moment).
Let's look at some of the technical indicators pointing to a possible short-term price consolidation, as well as the indicators suggesting silver's long-term bull market has plenty more life.
First, let's recap silver's rally to five-month highs last week...
Silver Price Adds 1.7% Last Week (Sept. 1-8)
After closing at $17.82 on Friday, Sept. 1, silver climbed higher on Tuesday, Sept. 5, after the Labor Day holiday and North Korea's hydrogen bomb test. The test was reportedly the most powerful yet, which sent investors piling into safe-haven silver. The metal added 0.7% on the day to close at $17.94.
Silver started Wednesday off mostly flat, as the DXY traded in the 92.25 range. But the price of silver trended lower from there, eventually settling at $17.91 for a 0.2% loss.
Here's a closer look at the dollar's action last week...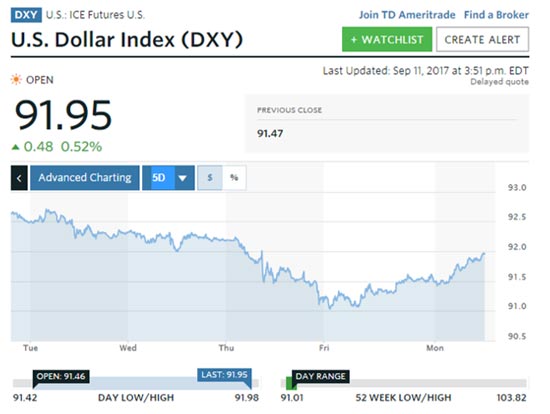 Then, silver prices sharply rebounded on Thursday. The DXY sank from 92.25 to a midday low of 91.50, which pushed silver above the $18 mark by midday. Prices rallied 1.2% to $18.12 by the close for the highest settlement since April 19.
On Friday, Sept. 8, the silver price opened higher at $18.16 as the dollar fell toward the 91 level. But a DXY relief rally boosted it back to 91.50, which pulled silver lower throughout the day. The price of silver managed to close at $18.12 - the same close as the previous session. That marked a weekly gain of 1.7%.
Yesterday (Monday, Sept. 11), silver prices fell as the dollar kept climbing to flirt with the 92 level. The metal started the day sharply lower at $17.72 and eventually recovered to $17.90 by the close. However, that was still a 1.2% decline from Friday's settlement.
Urgent: Executive Editor Bill Patalon just saw something on his precious metals charts he's only seen twice in 20 years. He calls it the "Halley's Comet of investing" - and it could lead to windfall profits. Read more...
The silver price today increased slightly from yesterday's loss, up 0.1% and trading at $17.92.
As you can see, the price of silver is already down 1.1% this week from last Friday's five-month high. Given that it's seen a 16.6% rally from the 2017 low of $15.37 on July 7, I wouldn't be surprised if silver continues a bit lower from here.
But a brief pullback from here would be healthy for the metal and would likely set silver prices up for a continued run higher through the end of the year.
Here's my silver price prediction for the rest of 2017...
This Is How Much Higher the Silver Price Could Go in 2017
Join the conversation. Click here to jump to comments…
About the Author
Peter Krauth is the Resource Specialist for Money Map Press and has contributed some of the most popular and highly regarded investing articles on Money Morning. Peter is headquartered in resource-rich Canada, but he travels around the world to dig up the very best profit opportunity, whether it's in gold, silver, oil, coal, or even potash.