Investing in marijuana penny stocks can be risky and full of uncertainty, which is why we wanted to make a straightforward guide for Money Morning readers.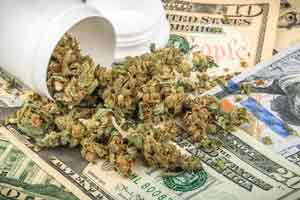 We have all the answers to new investors' most common questions, from learning how to manage risk to which marijuana sectors to invest in.
And it all starts with opening a brokerage account...
Open a Brokerage Account to Invest in Marijuana Penny Stocks
Now, before we talk about opening a brokerage account, we want our readers to know Money Morning is not a broker, dealer, or licensed investment advisor.
You can buy penny stocks on major brokerage firms, but some services, like Robinhood, don't let you. We put together a table of five brokerage firms along with their websites and minimums to deposit to open.
Our brokerage comparison table is for informational purposes only.
You can find additional information on brokerage accounts by clicking here.
Once you find a broker you like, you will fill out an application with the needed personal information, which includes name, address, date of birth, contact information, and your social security number or Tax ID.
Special Report: Cannabis Is the Gold Rush of the 21st Century - 30 Stocks to Invest in Now. Details here...
After opening your account, you'll need to determine your risk tolerance for investing in marijuana stocks...
Know Your Risk Tolerance Before Investing in Marijuana Penny Stocks
Buying any stock comes with the risk that you could lose all of your investment, which is why it's never a good idea to risk more than you can afford to lose. And because marijuana penny stocks are notorious for volatile price swings, investors have to be extra cautious.
For example, the stock price for Mountain High Acquisitions Corp. (OTCMKT: MYHI) has traded between at a low of $0.01 and a high of $0.90 in the last 52 weeks. If you purchased at $0.90 on Jan. 23, 2017, your investment would be down 92.22% at today's opening price of $0.07.
Another example is Grow Condos Inc. (OTCMKTS: GRWC). In the last 52 weeks, GRWC reached a high of $2.00. But investors who bought in at $2.00 have lost 99.5% of their investment at today's opening price of $0.01.
These stocks could still be worth owning in the long term, but you can see just how volatile the price swings are for marijuana penny stocks.
But when you know your risk tolerance, you can then focus on where to put your hard-earned money...
Three Marijuana Penny Stock Sectors to Invest In
New pot stock investors sometimes don't know there are more types of marijuana companies than those that grow, distribute, and sell cannabis.
But that's only one sector profiting from the booming, $6.7 billion North American pot industry...
"Comparing the legal cannabis sector to the legendary 1850s California Gold Rush might seem like hyperbole, but it's no idle boast," Money Morning Director of Technology & Venture Capital Research Michael Robinson said on Aug. 2.
"Sure, plenty of forty-niners struck it rich, but the real fortunes went to the folks who sold the prospectors the things - tools, clothes, food, housing - they needed to chase their dreams of gold riches," said Robinson.
Robinson calls this "pick-and-shovel" investing, because the people making money from gold were the businesses selling the picks and shovels. And the pick-and-shovel plays in the cannabis industry are real estate, social media, and medical marijuana companies.
To help our readers find stocks like these, we've put together a list of four pick-and-shovel stocks to watch in the marijuana industry right now.
In real estate, we are watching Zoned Properties Inc. (OTCMKTS: ZDPY).
Zoned Properties is an Arizona-based real estate development firm founded in 2003. It operates, leases, and manages commercial properties within the United States. It also provides development, landscaping, facilities management, and security system services to medical marijuana businesses.
According to its website, Zoned Properties owns or contracts three cultivation properties and has signed tenants for two dispensary properties in Arizona.
And thanks to the increasing demand for cannabis-leasing companies, it increased revenue and cash on hand in Q2 2017.
For Q2, Zoned reported revenue of $505,000, which was an increase of 23% from the $410,000 reported in Q2 2016. The company also decreased operating expenses by 32% during the same time. On top of all that, Zoned Properties had $935,000 cash on hand as of June 30, 2017, an increase of 159% from the $360,000 it had as of Dec. 31, 2016.
While these revenue totals won't blow anyone away, their growth is just the start of what to expect if recreational cannabis is legalized throughout the country.
Video
Marijuana Businesses Are Teaming Up with This Billion-Dollar Industry
The ZDPY stock price has been volatile. Today it opened at $0.91 a share, but over the last 52 weeks, it hit a low of $0.50 and a high of $3.88. But as the cannabis industry becomes less taboo, this is a stock that could provide quick profit opportunities as Zoned Properties increases its list of clientele.
For social media stocks, we're watching Social Life Network Inc. (OTCMKTS: WDLF) and MassRoots Inc. (OTCMKTS: MSRT).
Social Life has created a cannabis social media website called WeedLife Network. The site has its own search engine that is dedicated to the marijuana industry. WeedLife Network also provides visitors with coupons and discount deals.
A new marijuana business can also use the network's website-builder tool to create a basic web page.
MassRoots is the largest marijuana social media network, with more than 1 million registered users. Members can access the network from a web page or mobile app, where they can follow marijuana companies and dispensaries and share content.
MassRoots sent out a Jan. 4 letter to its shareholders letting them know that company revenue as of Sept. 30, 2016, had increased 1,140% year over year. MassRoots also has a partnership with MJ Freeways, a marijuana seed-to-sale tracking company.
WDLF shares closed at $0.15 yesterday, and shares of MSRT closed at $0.37.
NEW: Plot your course to a seven-figure weed windfall with the top pot stocks from every ecosystem - growers, edibles, dispensaries, and more. Read more...
For medical marijuana stocks, we're watching Cara Therapeutics Inc. (Nasdaq: CARA), a clinical-stage biopharmaceutical company founded in 2004.
One of its most impressive products is CR845, a drug designed to limit the entry of uremic pruritus into the central nervous system.
Uremic pruritus can cause sleep loss and depression. It is also reportedly associated with chronic kidney failure. It is known to affect 20% to 50% of patients with renal failure.
There are no approved ways to battle uremic pruritus in the United States right now. But in its phase 2 trial, CR845 had positive results.
Compared to a placebo, dialysis patients using CR845 had a 54% greater reduction in their worst itch sores.
CARA stock has traded between $4.35 and $20.90 in the last 52 weeks. In the last 12 months, the CARA stock price has climbed 216.84%.
The CARA stock price has traded at a high of $28.50 and a low of $5.85 over the past 52 weeks. It opened this morning at $13.31 per share.
While we are keeping an eye on these stocks, we aren't recommending them.
But we do have pot stocks we think are primed for explosive growth...
After nine months of exhaustive research, we've found the best, most lucrative, and fastest-growing legal pot stocks in America. They're all in our 89-page "bible of weed investing," The Roadmap to Marijuana Millions.
Here are all the details you need to read now about your next profit opportunity in marijuana investments...
Cannabis Is the Gold Rush of the 21st Century