U.S. President Donald Trump is attending the UN meetings this week in New York hoping to achieve two opposing goals.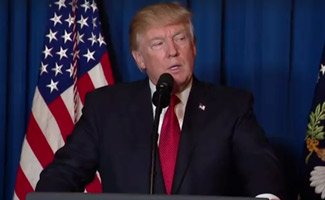 And he'll have to choose his words wisely to achieve even one of them.
First, he'll seek to reduce America's fiscal responsibility to the international enclave - an issue that was one of his chief talking points during his presidential campaign.
Second, he'll be looking for support from his global peers on stronger measures against North Korea.
Essentially, the president is asking more of the United Nations while requesting less U.S. responsibility to the organization at the same time.
It's a hard sell, and one that pits the president against allies and enemies alike.
Here's what he's up against...
Trump at the UN Meetings: Lighten America's Load   
President Trump started off his first-ever address to the UN this morning (Sept. 19) with a sweeping criticism of the organization...
"The United Nations was founded on truly noble goals," he said, according to U.S. News & World Report this morning. "Yet in recent years the UN has not reached its full potential because of bureaucracy and mismanagement."
In other words, the UN is both costly and ineffective.
"We are not seeing the results in line with this investment," Trump said.
You see, the United States pays over 28% of the UN's peacekeeping budget, reported Talking Points Memo today - a level of spending that Trump has complained is unfair.
The United Nations maintains, however, that those percentages are based on already-agreed-upon terms - namely, on national wealth.
Those terms, however, are dubious. China, for example, has a GDP that is roughly 60% of the United States', yet only pays for about 10% of the UN peacekeeping budget - 36% of Uncle Sam's contribution.
What's more, if you calculate GDP based on purchasing power parity - which adjusts for changing exchange rates and more closely represents purchasing power - China's GDP actually exceeds the United States'.
In short, Trump is right to say that America pays more than its fair share for UN peacekeeping efforts.
Unfortunately, because the United States contributes so much to the UN, any significant reduction on Uncle Sam's part will also be a significant blow to the UN's budget, which is sure to be an unpopular option among the other member nations.
So Trump will have to choose his words wisely. That's because while he's asking the organization to lighten America's load, he will also be asking more from it in return.
Trump Has to Balance "America First" with "North Korea Now"
Trump will push his "America First" message to the world body this week while seeking support for tough measures against North Korea.
Don't Miss: Trump's Secret Weapon Set to Foil China's Master Plan
A week after the UN Security Council voted to reduce gasoline exports and cap crude oil supplies to North Korea in response to its sixth nuclear test, Washington insisted the regime was starting to "feel the pinch."
The comments came from U.S. Ambassador to the UN Nikki Haley yesterday, who said recent sanctions had caused the country to be "cut off from the world," CNBC reported on Saturday.
But according to The Guardian this morning, "experts have challenged claims that the oil sanctions will exert sufficient pressure on the North Korean economy to convince the regime to change course."
And NK News, an independent news outlet focusing on North Korea, reported yesterday that there were no long lines for gas in Pyongyang, contrary to what Trump himself claimed in a tweet on a Sunday.

This is all to say that North Korea might not be "feeling the pinch" quite yet; stronger measures may indeed be warranted.
And convincing his UN counterparts to agree to see those stronger measures through may be the president's first real success at the international assembly this week.
After all, Pyongyang could launch a rocket anytime and actually hit a target, which makes producing effective sanctions on North Korea far more urgent than slowly enacting budget reform in a large international organization.
Failure to subdue the Hermit Kingdom would be devastating, not just to the country targeted, but to international markets, as well...
How North Korea Could Affect You
"The markets are already acting skittish thanks to ratcheting nuclear tensions with North Korea," Money Morning Capital Wave Strategist Shah Gilani told readers on Sept. 8.
In fact, on Aug. 30, Shah gave readers a list of ways that North Korea could "trigger" a long-overdue correction:
North Korea firing a missile and hitting a target
A U.S.-first strike
Chinese military involvement in any conflict
North Korea invading South Korea
Any one of these triggers could set off a negative feedback loop, in which passive investors - many of whom have never had cause to be "active" - sell their exchange-traded funds and mutual funds out of fear, sending the whole market downward.
And that nightmare scenario is all the more likely thanks to one basic fact of investing:
Seasonal volatility.
Shah has been warning readers for a few weeks that seasonal volatility is about to return to markets, as the "sell in May" crowd comes back from vacation and starts trading again.
"Money managers will start dumping losing positions and shifting that cash to safer investments as they await their year-end bonuses," Shah said.
Couple that kind of shortsighted thinking with the possibility of a North Korea trigger, and things could get very bad very soon.
But don't get out of the markets entirely. That's no way to grow your wealth. The best thing you can do, Shah says, is to "make sure you have your stops in place - NOW. Don't wait... And be safe out there."
An Incredible Win Rate: Since April 28, Shah Gilani's Zenith Trading Circle subscribers have had the opportunity to make average gains of 44% per day (including partial closeouts) on his recommendations. His win record is insane (in a good way). You've got to check this out - just click here.
Follow Money Morning on Twitter @moneymorning, Facebook, and LinkedIn.
Related Articles:
[mmpazkzone name="end-story-hostage" network="9794" site="307044" id="138536" type="4"]