The intensity of the investigation into President Donald Trump's campaign continues to stoke fears of a potential stock market crash in 2017. Although it's never possible to exactly predict when a stock market crash will start, it is always prudent to be prepared for one just in case.
The S&P 500 has fallen 2% since the opening bell on Wednesday (April 17), after news broke that President Trump asked the FBI to end its investigation into his former National Security Advisor. The Department of Justice ratcheted up the investigation by appointing a special counsel to investigate Trump's campaign and its ties to Russia yesterday evening.
The attempt to scuttle the FBI's investigation could be considered obstruction of justice, which is taken very seriously in Washington. Impeachment is now being discussed as a possibility by some members of Congress. On Tuesday, when CNN's Wolf Blitzer asked Sen. Angus King (I-ME) if impeachment is on the table, King said it is.
"Reluctantly, Wolf, I have to say yes, simply because obstruction of justice is such a serious offense."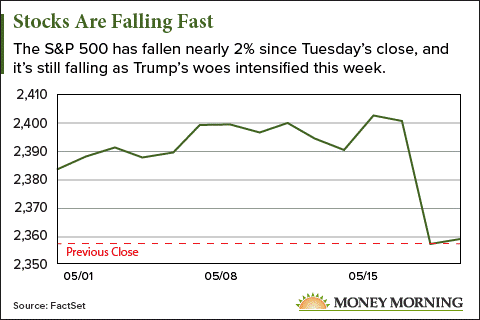 The political turmoil has rattled the stock market. The sell-off could be a sign Wall Street is losing faith in President Trump's ability to pass his economic agenda.
Trending Now: The Four Best Silver Investments This Year (and Why You Need Them in Your Portfolio Today)
The Dow rocketed 15% higher between Election Day and Tuesday, before the latest news broke. Stocks surged thanks to Wall Street's expectations that President Trump's policies, including tax cuts and a $1 trillion infrastructure plan, would boost economic growth.
"[Wall Street banks] are betting that Trump and the Republican-led Congress will get the job done and cut taxes and regulations," wrote CNN back in December.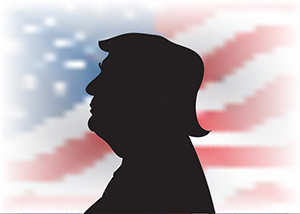 The scandal surrounding the president is putting an end to that optimism. That by itself might signal a stock market crash in 2017. But the controversy in the White House could create a climate of uncertainty that goes beyond stalled economic plans. Take a look at how much the VIX rose yesterday.
The VIX - often called Wall Street's "Fear Index" - jumped 45% yesterday to 15.42, its fifth-biggest one-day jump ever. The highest ever single-day jump in the VIX came in February 2007 as the housing bubble collapsed, eventually leading to a stock market crash in 2008.
And things could be even worse this time around. Here's how President Trump could cause a market crash in 2017...
Will Trump Cause a Stock Market Crash as Controversy Grows?