Oil prices today (Tuesday, Sept. 19) are trading above $50 a barrel, which puts oil on track for its highest closing price since July. And we predict oil prices will head even higher before the end of the year, too...
WTI crude oil prices are trading at $50.26 a barrel today and are up 3.5% since just last week, when they opened at $48.23 on Thursday.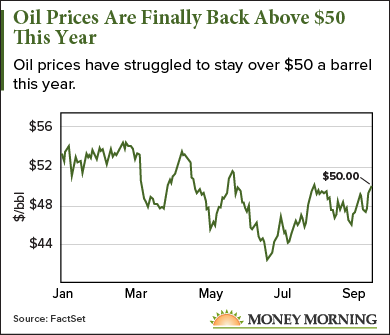 Oil prices continue to rebound after Hurricanes Harvey and Irma wiped out demand across the southeast United States. The destruction of pipelines, refineries, and commerce across Florida and the Gulf Coast region meant oil pumped out of the ground was being stored instead of used. That boosted supplies and lowered prices. Commercial crude supplies rose 2.2% between the weeks of Aug. 25 and Sept. 8.
Oil prices fell 4% between Aug. 25 and Aug. 30 as Hurricane Harvey made landfall in Texas, and they fell 3.2% between Sept. 7 and Sept. 12 as Irma barreled through the Caribbean and Florida.
Oil prices have struggled to stay above the $50 a barrel mark this year, despite OPEC renewing its oil production cut in May.
But our oil price forecast shows oil prices will continue to rise in 2017, and one important oil price indicator shows it's about to happen soon...
Why Oil Prices Today Are Rising Again
Oil prices started the year with highs above $54 a barrel in January and February, but sunk below $50 a barrel this summer. An excess of oil supply weighed down oil prices, but the supply is finally dwindling...
Yesterday, the International Energy Agency (IEA) released its monthly report showing the world's oil supply dropped by 720,000 barrels a day in August. This was the first drop in supply in four months.
And now, OPEC can finally claim that their production cut deal is working.
New Oil Tax Set to Cost Americans at the Pump: Paul Ryan is set to introduce a new tax to Congress, and it will cost Americans an additional 30 cents or more per gallon at the pump. Click here to find out more...
Saudi Arabia has been pressuring OPEC members to live up to their production cap first signed in November 2016 and renewed in May. The Saudis advocate restricting oil exports among OPEC members if oil prices don't rise. Saudi Arabia could propose an export-monitoring regime at the Sept. 22 meeting in Vienna. That appears to have galvanized OPEC members into adhering to the agreement.
OPEC's compliance rate for the agreement jumped from 75% in July to 82% in August. The 11 non-members participating in the deal achieved 100% compliance. That led to OPEC's production falling by 79,100 barrels a day in August. OPEC's production is down about 1 million barrels since last year.
But that wasn't the only bullish news for oil prices...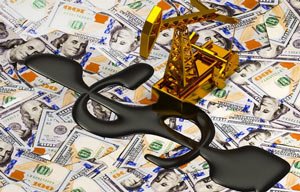 Weekly oil production in the United States dropped nearly 5% between August and the first half of September. The United States averaged 9.5 million barrels of oil a day in August, but it is averaging 9.1 million barrels a day through September.
U.S. crude oil stocks are also dropping. From the first week of June to the first week of September, U.S. supply fell a little more than 2%. In July, crude stocks fell below 2 billion barrels for the first time since January 2016.
And there's even more bullish news for oil demand, too...
The same IEA reported its oil forecast for global demand grew another 1.6 million barrels a day. That's a jump of 6.6% over its forecast in July and despite weakened demand in the United States thanks to Hurricanes Harvey and Irma.
Oil traders responded to the positive news by bidding crude prices over $50 a barrel.
But our oil price prediction says WTI prices are going even higher in 2017. And we've uncovered one indicator that shows oil will hit our price target very soon...
One Reason for Our Bullish Oil Price Target for 2017