With annual revenue rising 52.8% to $136 billion over the last three years, Amazon.com Inc.'s (Nasdaq: AMZN) massive growth isn't stopping anytime soon. Today, we're showing you a way to profit from Amazon's explosive growth while earning income from dividends with this top REIT...
A real estate investment trust (REIT) is a company that owns and leases income-producing real estate properties. They're among the highest-yielding stocks you can buy, with an average dividend yield more than four times that of the S&P 500. Most REITs lease shopping malls, hotels, or office buildings to other companies.
Today's REIT recommendation - which has a 3.28% dividend yield - leases data centers that store technology used to process web traffic and video streaming.
According to Money Morning Resource Specialist Peter Krauth, Amazon's demand for this REIT's data centers will soar as Amazon keeps growing the biggest area of its business...
Here's Why Our Top REIT Will Benefit from Amazon
Amazon Web Services (AWS) will be largely responsible for our top REIT's rally in 2017 and 2018. AWS is Amazon's cloud storage business, meaning it processes terabytes of website traffic and video streaming for firms like Netflix Inc. (Nasdaq: NFLX).
Since it was rolled out in 2006, AWS has quickly become the most dominant cloud service provider in the world...
A 2016 report from Synergy Research Group said AWS makes up 45% of the global cloud market. That's bigger than the cloud businesses of Microsoft Corp. (Nasdaq: MSFT), Alphabet Inc. (Nasdaq: GOOGL), and International Business Machines Corp. (NYSE: IBM) combined.
This chart shows just how important AWS is not just to the cloud market but also to Amazon's overall profitability...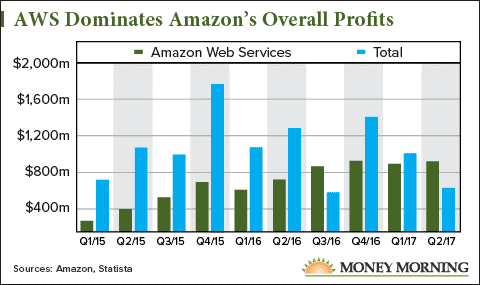 Last quarter, AWS's revenue of $4.1 billion made up 11% of Amazon's revenue across all businesses. Not to mention, AWS's profit of $916 million beat the company's overall profit of $628 million.
"The rest of Amazon could hemorrhage money, and indeed, sometimes it does," Peter said. "AWS actually represents more than 100% of profits, while it's just 10% of revenue."
Must See: This Great Depression-Era "Secret" Helped Transform Two Teachers into Millionaires. Read More...
Both Peter and other analysts see AWS's control of the cloud market only growing larger over the next five years. Tech researcher Wikibon forecasts AWS raking in revenue of $43 billion by 2022 - more than triple the $12.2 billion earned in 2016.
All of this cloud computing demand will come from the streaming revolution. Peter's research shows that global video traffic - including TV and movie streaming - could surge 300% by 2021.
"This streaming revolution has spawned a whole new business sector," Peter said. "And the companies that facilitate the flow of streaming traffic find themselves in the sweetest of spots."
That's why Peter's top REIT pick today is a great way to profit from AWS's success.
The REIT offers a service with Amazon called AWS Direct Connect, which lets the REIT's customers - often IT companies - establish a private, direct connection between the REIT's data centers and AWS. According to Amazon, this can reduce the customer's network costs.
As AWS continues to grow, more IT companies in need of data storage will use this AWS service. This will lead to more demand for our REIT pick's data center locations.
The REIT is also a way to profit from Amazon without buying shares of AMZN. While AMZN stock currently costs at a whopping $940.56 per share, our REIT pick costs much less, at $113.29.
And if you're looking for a stronger dividend, Peter's REIT recommendation easily beats AMZN. It offers a quarterly dividend of $0.93 per share (3.28% yield), while AMZN doesn't pay a dividend at all.
That means this REIT gives you exposure to the most profitable part of Amazon's business plus the added income of a dividend-paying stock...
This Is the Best REIT to Buy Before 2018