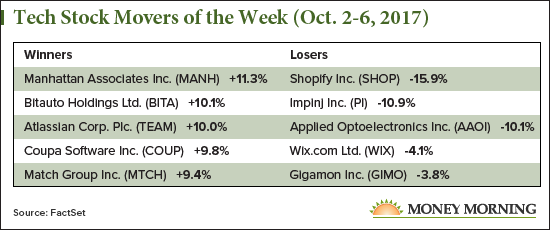 New deals, strong earnings, "dirty" business practices, and plain old volatility are the leading stories in our latest list of tech stock* movers...
Manhattan Associates Inc. (Nasdaq: MANH) led the winners with an 11.3% rise for the week. The stock surged on Tuesday after the announcement of a partnership with Italian supermarket chain Esselunga. Manhattan Associates will help the 60-year-old grocer update its supply chain and improve efficiency across its 156 locations. The shot in the arm for MANH was most welcome, as the stock had been sputtering over the last year and was near a 52-week low at the end of September. Shares closed the week at $46.28.
Bitauto Holdings Ltd. (NYSE: BITA) was close behind with a 10.1% jump, reaching a new 52-week high. Bituato has been flying high recently, gaining 24% in September and 165% in 2017 so far. The Chinese company operates an online platform for auto sales. Its 2017 earnings are on pace to double from a year earlier. On Thursday, analysts at BidaskClub upgraded BITA from a "Buy" to a "Strong Buy," and Weekly Hub reported on Sunday that eight of nine analysts it tracks rate BITA a "Buy." Shares closed the week at $49.18.
BREAKING: New Legislation Could Turn Tiny Pot Stocks into Millions. Click Here...
Sign up for SMS so you never miss special events, exclusive offers, and weekly bonus trades.
Now for last week's tech disappointments, which begin with a breaking scandal...
Shopify Inc. (NYSE: SHOP) fell 15.9% after a cascade of bad press. On Wednesday, Citron Research released a video in which Managing Editor Andrew Left called Shopify's business "dirtier than Herbalife." Herbalife Ltd. (NYSE: HLF) is a nutrition and personal care business that has been accused of operating a pyramid scheme. Immediately after the video was released, a slew of law firms announced investigations into Shopify, sending the stock into a downward spiral. SHOP had been performing extremely well this year before last week's plunge and is still up more than 125% in 2017. Shares closed the week at $97.92.
Impinj Inc. (Nasdaq: PI) fell 10.9%, continuing a trend of volatility over the last year. Impinj has appeared on our movers list several times in the past few months. The stock rose from $28.20 in March all the way to $59.37 in late June, before dropping sharply to $30.23 in August. PI had been on the rise again since then, but this latest drop shows that it is still one of the more volatile tech stocks out there. Shares closed the week at $37.09.
Tech Stocks to Watch This Week
Here are a couple tech stocks we're keeping an eye on for the coming week...
Broadsoft Inc. (Nasdaq: BSFT) hit a new 52-week high last week. The stock has received favorable ratings from several analysts over the last few months, including William Blair, Needham & Co., and Jeffries Group. On Saturday, Seeking Alpha said Broadsoft was "in play" for a potential merger deal.
Western Digital Corp. (Nasdaq: WDC) announced last week that it will host a technology event for media and analysts on Wednesday, Oct. 11. The event will unveil what WDC calls a "new generation of technologies that promise to fuel the preservation and access of Big Data for the next decade." WDC has been sparring for months with its joint venture partner, Toshiba Corp. (OTCMKTS: TOSYY), and is likely hoping to ease investor concerns.
We'll keep you updated if there's anything you need to know to make money on these moves.
*Stocks have a primary listing on a U.S. exchange, a market cap greater than $1 billion, and are in either the Technology Services or Electronic Technology sector. Data and analytics provided by FactSet.
Up Next: One gallon of this new "crystal fuel" could get you from New York to L.A. and back... seven times! Being hailed by many experts as energy's "Holy Grail," it's 1,693 times more powerful than the gasoline that runs your car. The mainstream investment media isn't even talking about it yet. Read more...
Follow Money Morning on Facebook, Twitter, and LinkedIn.
Join the conversation. Click here to jump to comments…
About the Author
Stephen Mack has been writing about economics and finance since 2011. He contributed material for the best-selling books Aftershock and The Aftershock Investor. He lives in Baltimore, Maryland.