For many investors, the thought of investing in legal marijuana would have seemed crazy just a few short years ago. But this industry is creating a new group of marijuana millionaire investors every day.
That's why we're bringing readers the best marijuana stock to buy today. In fact, we're so bullish on this stock, we think it could soar more than 1,000% as marijuana legalization continues to spread through the United States.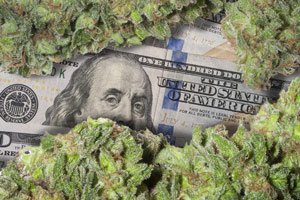 Readers who first bought this marijuana stock when Money Morning Director of Technology & Venture Capital Research Michael Robinson first recommended it in May 2013 have banked gains over 1,100%. Don't worry if you missed those gains.
Robinson says this marijuana stock could post another 1,000% gain from here…
Why Marijuana Stocks Are Minting Millionaires
Cannabis use is becoming less taboo thanks to its use as a medicine. According to a New England Journal of Medicine study published in 2013, eight out of 10 doctors approve the use of medical marijuana.
BRILLIANT: Average Americans Are Becoming Marijuana Millionaires
Currently, 29 states and the District of Columbia have some sort of legalized medical marijuana.
And as more states fight to legalize cannabis for medicinal use, medical pot stocks could soar triple digits. According to BallotPedia.org, Idaho, Missouri, and Utah all have medical marijuana initiatives that "may appear" on ballots on Nov. 6, 2018.
It is a trend that seems to be unstoppable, especially now that 45% of Americans said they have already tried marijuana, according to a July 2017 Gallup poll
Compare that to a similar 1969 Gallup poll where only 4% of those surveyed admitted to using cannabis. Think about that for a moment. In 1969, the social fabric of this country was changing rapidly, and many in the younger generation were experimenting with marijuana.
Here we are, 48 years later, and more than 11 times the people surveyed now say they tried it. That is not a trend – it is a runaway locomotive.
And that's not the only bullish catalyst Robinson has been watching…
Pot Prediction No. 1: Full Legalization in California – This will be huge. On Jan. 1, 2018, the state of California will declare cannabis of all kinds fully legitimate. This state is already ahead of the curve here, and this will take the chains off completely. Legal pot companies cannot help but thrive.
Pot Prediction No. 2: The Great Green North – A bill legalizing recreational marijuana throughout Canada passed Parliament with a target implementation date in July 2018. Canada will become one of only two countries with total legalization.
Pot Prediction No. 3: Crypto-Cannabis Goes Mainstream – What do you get when you combine the two most innovative trends in investing, cryptocurrencies and marijuana? The answer is a whole new world of opportunity. Some Ethereum-based companies are already focusing their efforts on cannabis, and one is trying to build a blockchain-based "ecosystem" for the weed industry.
There is clearly no shortage of catalysts for the marijuana industry and the companies that are leading the sector.
And the marijuana stock below remains one of the best ways to profit from this soaring industry today…
The Best Marijuana Stock to Buy Today