Hard forks are supposed to be rare, but the next Bitcoin hard fork, scheduled for Oct. 25, 2017, will be the second one this year…
There was a hard fork that created Bitcoin Cash on Aug. 1, and the next fork will create a separate and distinct cryptocurrency from Bitcoin called Bitcoin Gold.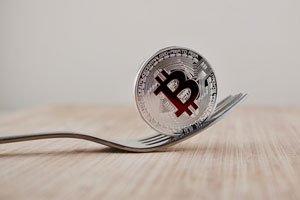 To help Money Morning readers understand what the next Bitcoin fork is all about, we've got an exclusive interview with the team behind Bitcoin Gold.
Here's what the Oct. 25 hard fork means for Bitcoin holders – as well as what cryptocurrency investors should expect on the day of the fork.
Why Another Bitcoin Hard Fork Is Happening in 2017
Money Morning Cryptocurrency Expert David Zeiler interviewed Bitcoin Gold's organizer, Robert Kuhne, to provide our readers with most important details about the fork.
Kuhne told Zeiler that the idea for Bitcoin Gold started with Jack Liao, the CEO of LightningAsic, a Hong Kong-based vendor of digital currency-mining equipment.
You see, Liao is worried that mining Bitcoin is being dominated by just a handful of Chinese miners. These miners have more expensive and powerful machines, which puts the average Bitcoin miner at a disadvantage.
For example, a 2014 CoinDesk report about different mining equipment featured products that cost between $5,000 and $10,000.
That's why the goal of the next Bitcoin hard fork is to spread out mining power so more people can participate in the mining process.
"The inspiration for Bitcoin Gold was to create a version of Bitcoin that is anti-fragile against mining centralization. The only way to do this was through a hard fork," Kuhne told Zeiler.
Kuhne also told Zeiler that Bitcoin Gold should be thought of as a protection against mining centralization. Through Bitcoin Gold, more than just a handful of miners can receive a cryptocurrency for their mining efforts.
Video
Top 5 Cryptocurrencies to Invest in Today
On Oct. 25, Bitcoin owners will receive an equal amount of Bitcoin Gold for every Bitcoin they own.
But what our readers want to know is what they should do with their Bitcoin Gold.
Is it smart to sell Bitcoin Gold?
Should you use it to buy more of the original Bitcoin?
Should you hold on to Bitcoin Gold and hope the value climbs?
Zeiler has all the answers to these questions and shows you exactly what to do, right here.
Fast-Moving Trades You Can Play Right on Your Cell Phone
If there's one thing Tom Gentile loves more than money, it's fast money. That's why, for the past four months, he's been working on a new invention to help you get profits in your hands even faster. In fact, you could be looking at an extra $2,000, $4,000, or even $6,000 in four days or less. To be one of the first to see what Tom's uncovered, just click here…
Follow Money Morning on Facebook, Twitter, and LinkedIn.