Hedge fund manager Mark Yusko has attracted a lot of attention for his long-term Bitcoin price prediction of $1 million, a stark contrast to the attacks coming from other corners of Wall Street.
The story has unfolded, in part, on Twitter…
"Only gamble was whether Bitcoin would make if [sic] from $0 to $100, that was the real miracle. Going from $4,000 to $40,000 or $400,000 is easy," Yusko, the founder and CEO of Morgan Creek Capital Management, tweeted Sept. 18.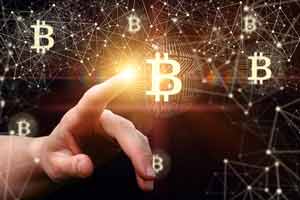 A month later, Yusko responded to a question asking for a Bitcoin price target. He simply tweeted, "$1,000,000 (long-term)."
The tweets show Yusko sees a $1 million Bitcoin price prediction as a "best case" and $500,000 Bitcoin price as a "conservative base case," both over a time frame of 10-plus years.
Meanwhile, Wall Street figures like JPMorgan Chase & Co. (NYSE: JPM) CEO Jamie Dimon and Ray Dalio, founder of the Bridgewater Associates hedge fund, have been trashing Bitcoin as a dangerous bubble.
But Yusko has remained adamant. The reasons he cited on Twitter for the big Bitcoin gains he's predicting are "store of value," "gold equivalence," and "network effect."
The first two are fairly straightforward, but the network effect is particularly compelling in the case of Bitcoin.
It's the basis not just for Yusko's optimism, but a number of Bitcoin price predictions…
A Bitcoin Price Prediction Based on Users
It's more formally known as Metcalfe's Law. It was named after Robert Metcalfe, who co-invented the Ethernet networking protocol. The law states that the value of a communications network grows exponentially as more users connect to it.
Free Book: The secrets in this book helped one Money Morning reader make a $185,253 profit in just eight days. Learn how to claim your copy here…
The idea is that the utility of the network increases exponentially as the number of people connected to it grows.
This was demonstrated with the original telephone system. Having a phone in the house was of limited use in communicating with others when few people owned them, but indispensable once nearly everyone had one.
FundStrat co-founder Tom Lee has applied an adaptation of Metcalfe's Law to Bitcoin that puts the digital currency in a range between $20,000 and $55,000 in five years.
Metcalfe's Law also applies to the stunning rise of Facebook Inc. (Nasdaq: FB).
In its early days, back in 2004, Facebook had about 1 million users and was valued at approximately $5 million dollars. By 2006, Facebook had 12 million users and was valued at $1 billion. By 2010, the social network had over 600 million users and was worth $56 billion.
At the time of its IPO in May 2012, Facebook had 900 million users and was valued at more than $100 billion. Today Facebook has 2 billion users and has a market cap of $522 billion.
Tim Peterson, the founder of and portfolio manager for Cane Island Alternative Advisors, wrote a blog post in September in which he showed how the trajectories of Facebook and Bitcoin have followed Metcalfe's Law.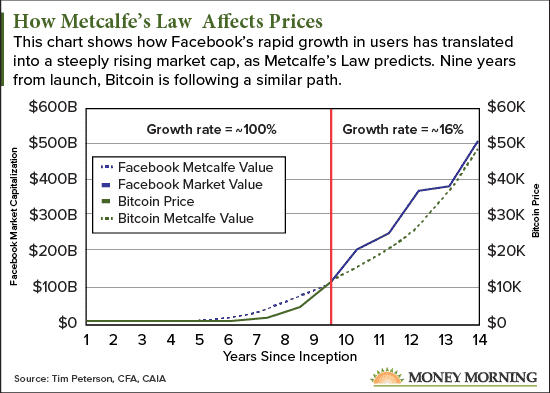 The chart shows the path of both Facebook and Bitcoin from inception, with Facebook five years farther along. Should Bitcoin follow Metcalfe's Law as Peterson envisions, the Bitcoin price will reach $20,000 in 2019 and $48,000 in 2022.
While that still seems a long way off from $500,000 to $1 million in 10 years or so, recall that Facebook's valuation rose by a factor of 10 from 2010 to today.
It's also important to remember that projections based on Metcalfe's Law depend on user adoption, not time.
And Bitcoin is at a very, very early stage when it comes to user adoption…
Why the Bitcoin Price Will Go Parabolic When It Goes Mainstream