Over the past month, the price of gold has remained in a narrow $28 trading range. It's moved between a low of $1,269, on Nov. 3, and a one-month high of $1,297, just last Friday.
As soon as the gold price drops toward $1,270, buyers step in. And once it approaches $1,290, sellers take over.
Still, the Nov. 3 low of $1,269 has held up so far, and the metal has managed to consistently establish higher lows since then. This has led to an overall gain of 1.4% in November so far, with the metal posting a huge 1.8% rise just last week alone.
We see a similar pattern emerging in gold stocks. The VanEck Vectors Gold Miners ETF (NYSE Arca: GDX) – which tracks gold mining stocks – hit a bottom on Oct. 26, and then a higher low on Nov. 7
Right now, gold sentiment is extremely bearish, and it's little wonder. Stocks are at all-time highs, oil prices are near two-and-a-half-year highs, and Bitcoin just smashed through the $8,000 level.
Gold has become an afterthought as other areas of the market receive more attention.
But remember, this is exactly the kind of environment where new bull rallies are born. When the least number of participants are interested, that's when assets tend to begin fresh ascents.
All of this should add up to a rally for gold prices through the end of the year. That's why I'm giving readers my bullish target for the price of gold before 2018.
First, let's take a closer look at last week's 1.8% gain, which led gold to hit its highest level since Oct. 16…
Why the Price of Gold Climbed 1.8% Last Week (Nov. 10-17)
After settling at $1,274 on Friday, Nov. 10, gold kicked off Monday, Nov. 13, with a modest gain even as the dollar stabilized. The U.S. Dollar Index (DXY) – which pegs the dollar against the euro, yen, and other currencies – moved up from 94.39 to 94.49. This pushed gold prices 0.4% higher, to close the day at $1,279.
But the dollar sold off on Tuesday, which led the gold price even higher. The DXY dropped back below the 94 level, eventually falling to 93.83 by the end of the day. Although gold opened the day lower, at $1,274, it quickly rebounded to $1,282 by the afternoon. It ultimately closed at $1,283, for a 0.3% gain.
Here's a look at the DXY's performance last week…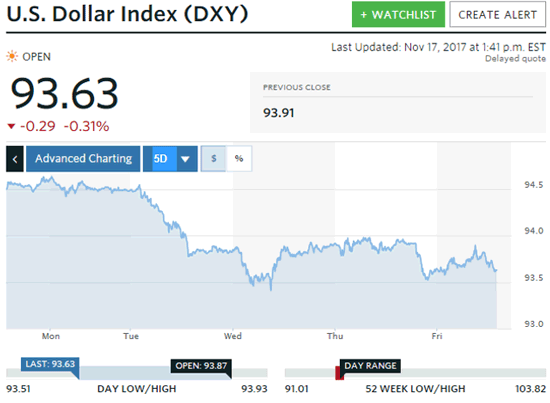 Wednesday's gold action was almost the complete opposite of Monday's. The DXY remained stable, moving sideways from 93.83 to 93.81 throughout the day. Except, unlike Monday, gold prices dropped back below the $1,280 level. They eventually settled 0.4% lower, at $1,278, by the end of the day.
The metal had an uneventful session on Thursday, especially with the DXY largely flat yet again. The index saw a small bump from 93.81 to 93.93, which caused the price of gold to close at the previous day's close of $1,278.
Urgent: Executive Editor Bill Patalon just saw something on his precious metals charts he's only seen twice in 20 years. He calls it the "Halley's Comet of investing" – and it could lead to windfall profits. Read more…
It wasn't until Friday, Nov. 17, that gold price action really heated up…
That day, gold prices rocketed 1.5% on the day to settle at $1,297, logging a weekly gain of 1.8%. This was likely due to a combination of both the declining dollar and falling stock market. The DXY fell from 93.93 to 93.67 that session. Meanwhile, the Dow Jones and S&P 500 both fell 0.4% and 0.3%, respectively.
But the gold price today (Monday, Nov. 20) is erasing some of Friday's 1.5% rise. The metal is currently down 0.6% and trading at $1,289.
Gold has been beaten down from its $1,351 peak on Sept. 12, but remember, it's still up 12% so far this year. This is considered the hallmark of an early bull market – when an asset continues to rise but the average investor doesn't even realize it.
I think the price of gold is set for a home-stretch rally in December. Here's how big I think that rally could be…
My Bullish Target for the Gold Price Before the Start of 2018
Join the conversation. Click here to jump to comments…
About the Author
Peter Krauth is the Resource Specialist for Money Map Press and has contributed some of the most popular and highly regarded investing articles on Money Morning. Peter is headquartered in resource-rich Canada, but he travels around the world to dig up the very best profit opportunity, whether it's in gold, silver, oil, coal, or even potash.