Finding reliable retirement income is harder than ever thanks to the Federal Reserve's rock-bottom interest rates, but we have three of the best dividend stocks for retirees to help you boost your income...
The historical federal funds rate has usually stayed between 2% and 5% but we've been between 0.5% and 1.25% for the past nine years.
And with stocks trading at all-time highs, even decent dividend income is hard to come by.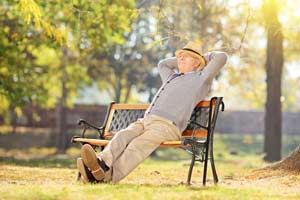 According to Multpl.com, the average dividend yield of the S&P 500 is currently 1.86%. Compared to the S&P's average historical yield of 4.37%, it seems like the only people receiving meaningful dividend income are the ones who can afford tens of thousands of shares.
But that doesn't have to be the case...
For those investors who already have a retirement plan in place and still have extra money to invest, Money Morning has a strategy to supplement your main retirement income.
Each of these dividend stocks boasts a 3% dividend yield or better.
But we want to be clear: This is not a replacement for a retirement plan. It's simply a way to boost your income on top of what you're already collecting. And these stocks should only be bought with the extra money you have.
And these stocks are more than income investments; they also fit Money Morning Chief Investment Strategist Keith Fitz-Gerald's "Unstoppable Trends." These companies operate in sectors that maintain steady demand regardless which way the market goes...
"Unstoppable Trends" Lead to Growing Dividend Income
The key to dividend income investing is finding companies that fall into one of what Fitz-Gerald calls the six "Unstoppable Trends." These trends are backed by trillions of dollars that Washington cannot repeal, the Fed cannot meddle with, and Wall Street cannot hijack. They are:
Demographics
Scarcity and allocation
Medicine
Energy
Technology
War, terrorism, and ugliness (also called "defense")
Investing in companies that are tapped into these trends is the surest way to secure reliable dividend income
Our first dividend stock is plugged into an industry projected to grow 51% annually, to $57.6 billion by 2021: artificial intelligence (AI).
Best Dividend Stocks for Retirees No. 3: Toyota Motor Corp. (NYSE: TM)
The world's largest automaker, Toyota Motor Corp. (NYSE: TM), sports a 3.2% dividend yield.
The company has paid a dividend since 1993 and increased its payments almost every year except for a 50% cut following the Great Recession of 2008. Currently, the company's annual dividend payment is at an all-time high of $1.97.
Toyota's dividend is secured by revenue from the more than 70 million vehicles sold over the past nine years, including more than 30 million in the United States.
This "Secret" Helped Transform Two Teachers into Millionaires: Donna and Dave R. were both teachers in Boston. But today, they're retired millionaires who are also earning $10,000 a month in income. Their secret? Much of their wealth is due to a Great Depression-era "program" most have no idea exists. Learn more...
Fitz-Gerald likes Toyota because it's also one of the leading innovators in the auto industry...
Its Prius became the standard against which all hybrid car technology is measured. The car became the world's bestselling hybrid, with more than 6.1 million vehicles sold globally.
Not to be outdone by the U.S. tech giants, in November 2015, Toyota declared it would invest $1 billion through 2020 to research AI. This year, that initiative materialized in a July announcement that the company would invest $100 million into its venture capital arm seeking out companies working on driverless AI technology.
The company is likely to continue growing its dividend as it dominates in auto sales and continues reimagining the technology driving its profits.
With a dividend payout ratio of less than 35% I expect Toyota to reliably pay its generous dividend for many years to come.
Best Dividend Stocks for Retirees No. 2: ABB Ltd. (NYSE: ABB)
Switzerland-based ABB Ltd. (NYSE: ABB), specializes in power-grid construction, automation, and robotics technology.
Since bottoming out at $16 in January 2016, shares of ABB, which yield 3%, have climbed to $25.50, a 59.4% increase.
The company bounced back last year after picking up two major contracts that would bolster its power-grid infrastructure business, one of its main sources of revenue.
According to a report by PwC and Oxford Economics, infrastructure spending - like on power grids - will reach $9 trillion per year by 2025, more than double the $4 trillion spent in 2012.
But that's not all...
Fitz-Gerald says the company is billing itself as a "technology leader" rather than an infrastructure supplier - an important distinction.
"Not many investors realize this, but more than 55% of ABB's sales are already from software and digitally enabled devices," he added.
As industries increasingly embrace digitalization, ABB's software and digitally enabled products represent a major growth opportunity.
The biggest example of this is in developing economies, like in Asia. Since many firms in developing countries found the cost of automation to be prohibitively expensive, they couldn't afford to buy ABB's products. However, thanks to lower-cost products like YuMi - the company's $40,000 two-arm factory robot - companies in developing markets could afford to start buying ABB's products.
As a result, analysts are forecasting earnings per share (EPS) for 2018 to come in at $1.45, up 5.07% from a week earlier. And 17.9% higher than current-year EPS expectations of $1.23.
ABB has paid its dividend every year since 2005, and staying on the forefront of technological innovation will help the company keep paying its dividend.
And there's a dividend stock on this list with an even higher yield...
Best Dividend Stocks for Retirees No. 1: Sanofi (NYSE: SNY)
[mmpazkzone name="in-story" network="9794" site="307044" id="137008" type="4"]
Currently sporting a 3.68% dividend yield, Sanofi SA (NYSE: SNY) is the highest-yielding stock on this list. Thanks in part to its new drug, Dupixent, the company's management is expecting revenue growth of more than 8% over the next three years.
Dupixent is a home run for Sanofi, because unlike other treatments for the most difficult and painful cases of eczema, Dupixent doesn't have cancerous side effects. As a result, it isn't required to have a "warning: may cause cancer" label that its competitors' drugs do.
Sanofi also has a huge pipeline that may deliver another blockbuster drug. The company is currently developing 44 treatments, with 13 in phase 3 clinical trials or waiting for approval from regulatory authorities.
Sanofi fits perfectly into Fitz-Gerald's Unstoppable Trend of medicine.
For example, in the United States alone, 1,685,210 new cases of cancer were diagnosed, and 595,690 people died of the disease in 2016, according to the National Cancer Institute. Thanks in part to CEO Dr. Olivier Brandicourt, Sanofi now sees cancer-fighting treatments as a central part of its growth.
By building out the existing cancer drugs it acquired in its $9.3 billion acquisition of Medivation, Sanofi's sales and profits will have a bright future. The company has matched or beaten earnings in each of the last nine quarters. And that bodes well for the company's dividend.
Sanofi has paid out 23 years of consecutively growing dividends while keeping its payout ratio below 80%. That means the company is likely to continue growing its dividend for years to come. For that reason, Sanofi is one of the best dividend stocks to buy for retirees.
Learn How to Invest Like the Pros with This Simple Method
You can turn a small stake into $815,588 in just one year with our new, fast-money research service.
The "accelerator trading strategy" is designed to take the emotion out of trading - and to help you make money.
And it works.
This year, we've already shown our readers 45 triple-digit gains. In October, accelerator trades averaged 313% gains a week, including full and partial closeouts.
Don't wait. Space is limited, and we're releasing four new moneymaking recommendations every week. Get your shot at 313% average weekly gains here...
Follow Money Morning on Twitter @moneymorning, Facebook, or LinkedIn.