One of the best renewable energy stocks in 2018 is poised to take advantage of 500% industry growth, which will make it one of the most profitable picks in this sector...
There are two reasons to invest in renewable energy stocks right now.
First, energy demand is rising internationally. Second, the cost of providing clean energy is getting cheaper as its availability grows.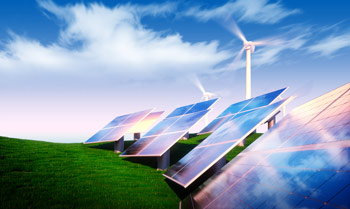 Clean energy-also known as "alternative" or "renewable" energy-includes hydropower, biofuels, geothermal energy, and, most importantly, solar and wind power.
Solar and wind power will be the fastest-growing alternative energy sectors in the coming year.
And solar power, especially, will drive our best renewable energy stock in 2018 to new highs...
Alternative Energy Is Needed to Meet Soaring Energy Demand
The U.S. Energy Information Administration (EIA) is forecasting worldwide energy demand to grow 25% by 2040.
That demand can't be met by traditional energy sources like oil, natural gas, and coal alone.
Utility Companies Spent $400 Million to Kill This Fuel: It can power your car, heat your home, and even run entire factories. See why tech companies are investing millions in this fuel (and how to join them). Click here to continue.
That means renewables are going to be needed to meet rising global demand. But not all renewables can grow...
Although geothermal energy, biofuels, and hydropower are all renewable sources of energy, they also have drawbacks. For instance, the production of biofuel requires large quantities of water, which is increasingly becoming a scarce resource in many parts of world. According to the World Wildlife Fund, 1.1 billion people lack access to water.
This brings us to sources such as wind and solar energy, which have two distinct advantages over other alternative energy choices.
First, wind and solar energy are clean - unlike coal, oil, or natural gas.
A recent Gallup poll revealed 63% of Americans believe global warming is a serious problem. That means American companies must remain committed to decreasing carbon production caused by the use of fossil fuels.
Video
The Farms of the Future Are Here
Second, solar and wind energy are unlimited.
As long as the sun shines and the wind blows, we'll be able to harness solar and wind energy. Whereas fossil fuels like coal, oil, and natural gas have a finite amount on Earth.
As supplies of natural gas, coal, and oil become increasingly scarce, the cost of these sources of energy will rise.
But because solar and wind energy is unlimited, their costs will actually fall as the technology to harness them becomes more prevalent.
And the falling cost for solar and wind will be a boon to alternative energy stocks.
Renewable Energy Is Now Cheaper Than Traditional Energy Sources
According to the EIA, wind energy is now a cheaper source of electrical power than both coal and natural gas.
In fact, wind energy is now the cheapest source of energy for new power plants, according to the EIA.
And wind energy is so cheap, its costs have dropped below zero in some areas.
Germany recently produced so much wind power that it was free. In fact, utilities had to pay their customers to use more electricity.
However, solar power costs are dropping even faster than wind power, making this an industry set to explode.
Money Morning Global Energy Strategist Dr. Kent Moors says solar power is achieving grid parity with fossil fuels across the globe. This means a country can produce energy just as cheaply using solar technology as it can using coal or gas to run its power plants.
Right now, solar energy has achieved grid parity in at least 20 states, including New York, New Jersey, and California.
And the cost of solar power is continuing to plummet. Today, the cost to produce solar energy is just 1/150th of what it cost in the 1970s, and those costs dropped another 10% in the past year alone.
With solar power becoming cheaper to produce than traditional energy sources, the EIA is projecting 60% growth in solar over the next year and a massive 500% by 2040.
All of these factors make renewable energy stocks a great choice for investors right now. And we have one stock with great potential to take advantage of this growth...
Own One of the Best Renewable Energy Stocks in 2018