Bitcoin prices seem expensive at today's (Dec. 6, 2017) price of $13,011, but that may be cheap compared to where the price of Bitcoin is heading.
Legendary tech entrepreneur John McAfee predicts the price of the cryptocurrency will reach $1 million by 2020, meaning Bitcoin could make you a millionaire in the next three years if his prediction is correct.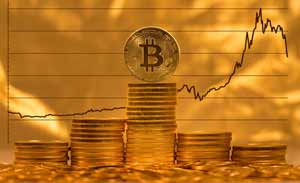 Crypto investors appreciate the optimism, but this is still a lofty price target to hit in less than three years.
However, there is reason to believe that one bitcoin will be worth $500,000 by 2030, netting owners of one whole bitcoin gains of 3,742.90% from today's price.
If you own two, you'll be a millionaire...
Why Owning Bitcoins Today Could Make You a Millionaire
Before we share the details on why Bitcoin prices could reach $500,000 in the next 13 years, we want Money Morning readers to know cryptos are still very speculative investments.
Just like any investment, you should never buy more than you can afford to lose. There is always a chance this investment could go to $0.
Having said that, Bitcoin's $217 billion market cap and 1,250% gains in 2017 show cryptocurrencies are more than just a trend.
Sign up for SMS so you never miss special events, exclusive offers, and weekly bonus trades.
There is a real demand for Bitcoin, whether it's as a storage of value, an alternative investment to diversify portfolios, or as a payment solution for goods and services.
Video
The Winklevoss Twins Just Became Bitcoin Billionaires
Predicting just how big this crypto market will get, two forward-thinking businessmen presented an argument to Business Insider, in May, that Bitcoin prices would reach $500,000 by 2030.
That's a bold claim, especially considering Bitcoin was trading at $1,490.72 at the time.
But there are three reasons to believe it's going to happen.
And if it does, owning just two whole bitcoins today would be worth more than $1 million by 2030....
Bitcoin Prices Will Reach $500,000, Reason No. 1: Remittances
In May, Jeremy Liew - one of the first investors in Snap Inc. (NYSE: SNAP) - and the CEO of Blockchain, Peter Smith, predicted Bitcoin would trade for $500,000 by 2030.
The first reason is the value of Bitcoin could climb if more people use it for remittance payments. The daily use of transferring money from the United States to individuals in foreign countries will increase the demand, which would make people willing to pay more for Bitcoin.
In 2015, the Pew Research Center found $133 billion in remittances were sent from the United States to other countries.
Unfortunately for individuals trying to send money to help their families abroad, the fees are hefty and the wait times are too long...
In Q3 2017, the global average fee to send remittance payments was 7.21%, according to the World Bank. Also, sending remittances can take five days or more for a recipient to access the funds, according to SmartAsset.com.
Learn How to Turn $500 into $1 Million: This Sunday school teacher's "retirement career" made him a millionaire. This book will teach you how you can do it too. Claim your FREE copy...
But thanks to Bitcoin, the expensive fees and time delays could be completely cut out. Right now, the average transaction fee for Bitcoin is $6.35, and the average time to confirm a transaction is seven minutes and 35 seconds.
Even though that transaction time is superior to the time for remittance payments to reach a recipient, Bitcoin transactions could get even faster as developers decide how to scale the crypto.
For example, Litecoin has an average transaction fee of $0.27 and a transaction time of one minute and 44 seconds.
With better name recognition, Bitcoin could become the go-to source for remittance payments if it has Litecoin's average fees and transaction time.
Remittance payments will play a big role in Bitcoin reaching $500,000, but it's not the only reason...
The second reason Bitcoin prices could reach $500,000 by 2030 is political uncertainty. It's a global problem that isn't going away.
Already, residents of one foreign country are willing to pay double the price just to own Bitcoin...