Bitcoin prices are climbing as much as $1,000 in a day, but a misconception about the legality of crypto money might be keeping investors out of the market.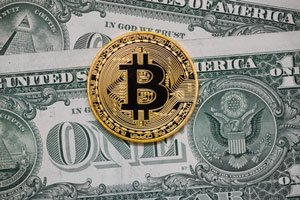 To clear up this misconception, we wanted Money Morning readers to know it's legal for U.S. residents to buy and sell cryptocurrencies, including Bitcoin.
In fact, you can even buy Bitcoin with a credit card.
But before buying cryptocurrencies, we wanted our readers to know all the details about the misconceptions so you can be fully informed...
Crypto Money Still Trying to Shake Its Biggest Misconception
In 2008, someone going by the pseudonym Satoshi Nakamoto published a paper titled "Bitcoin: A Peer-to-Peer Electronic Cash System."
Nakamoto laid out the framework for a peer-to-peer network for electronic transactions. Instead of relying on central authorities, like banks and the government, Bitcoin would be controlled by its users.
A Bitcoin user wouldn't have to rely on a bank to confirm payments or wait on lengthy transaction times.
But some users are also drawn to Bitcoin because of its anonymous payments, and that also attracted a seedy enterprise: Silk Road.
Video
Coinbase CEO: Everybody Is Interested in Digital Currency These Days
Ross Ulbricht, the reported creator of Silk Road, wanted it to be a platform where anyone could buy anything.
Of course, the platform become a hub for illegal products, since governments couldn't track who was buying or selling them thanks to the anonymity provided by Bitcoin.
When the website launched in February 2011, a Pennsylvania State University grad listed psychedelic mushrooms for sale priced in Bitcoin, according to Nathaniel Popper, author of "Digital Gold."
After the launch, the site sold everything from reindeer meat to instructions on how to hack ATM machines, according to 99Bitcoins.com.
Between February 2011 and July 2013, there were 1.2 million transactions completed on Silk Road, and the estimated sales revenue reached 9.5 million bitcoins.
At the time, that equated to $1.2 billion dollars.
Eventually Ulbricht was arrested, in October 2013, and charged with money laundering, computer hacking, conspiracy to traffic narcotics, and attempted murder.
Because of the sensational story of Silk Road, some still believe crypto money is just used for illegal transactions.
But even though Bitcoin was used for illegal purposes, it is not and has never been illegal.
However, cryptocurrencies have always been more valuable for their potential to replace fiat money...
Just look at how much money has piled into Bitcoin and Ethereum. Since the start of 2017, Bitcoin prices have climbed 1,629%, and Ethereum prices have climbed 5,208%.
And now cryptos are going mainstream...
The CME will launch Bitcoin futures trading on Dec. 18, which is a sign of Bitcoin going mainstream. It will allow investors to speculate on Bitcoin prices, just like they would with oil prices.
Companies like Microsoft Corp. (Nasdaq: MSFT) and Intel Corp. (Nasdaq: INTC) have also joined the Enterprise Ethereum Alliance. It's a group working together to support smart contracts on blockchain technology, the ledger that records transactions.
Now, even with more mainstream adoption, Bitcoin is still a very speculative investment. There are price forecasts that show it climbing to $1 million a coin, but it could just as easily plummet to $0.
Having said that, Bitcoin's $278 billion market cap and 1,629% gains in 2017 show crypto money is more than just a trend.
Free Book: The secrets in this book helped one Money Morning reader make a $185,253 profit in just eight days. Learn how to claim your copy here...
There is a real demand for Bitcoin, whether it's as a storage of value, an alternative investment to diversify portfolios, or as a payment solution for goods and services.
That's why we're going to show you how to buy your first Bitcoin and stake your claim in the $278 billion market...
How to Buy Crypto Money