Bitcoin prices have skyrocketed 1,681.88% in 2017, leading Money Morning readers to ask us if it's too late to buy Bitcoin. It's a good question, considering just one bitcoin costs more than $17,000.
But even though Bitcoin has soared this year, there are price targets that project the cryptocurrency will trade for as much as $1 million by 2020. That would be a gain of 5,723.67% from today's prices.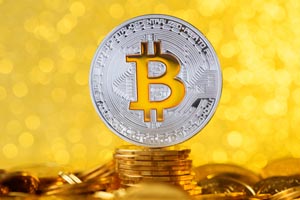 However, investing in Bitcoin is still very speculative.
Investment bankers like Jamie Dimon have gone as far as saying Bitcoin is worth nothing.
Dimon's comments have ulterior motives, because he makes his money through banking. If people start ditching JPMorgan Chase & Co. (NYSE: JPM) in favor of peer-to-peer money transfers with Bitcoin, his company could suffer.
But Dimon could also be right...
Right now, investors are chasing the nearly 1,700% in returns Bitcoin has made in 2017. As more investors pour into the crypto market, the price of Bitcoin climbs, because there is more demand.
And when investors are buying an asset because its price continues to rise, not because of its underlying value, then it's speculation.
That's why you need to read this before investing in Bitcoin...
What to Know Before Buying Your Fist Bitcoin
While Bitcoin's price is soaring thanks to speculation, it could have real-world value as a method of payment or as a store of value.
The underlying blockchain technology of Bitcoin is revolutionary. It's going to disrupt everything, from music sales to the medical industry.
The technology can still be used without cryptocurrencies, but Bitcoin supporters are hoping the crypto coin will become the default payment method.
For example, artists could sell their music directly to fans through a blockchain. If a fan purchases an album, the music will automatically be sent to the fans, and the payment would automatically be sent to the artist.
That gives the artist more control, and it also provides more incentives for fans to pay for music, knowing the money goes directly to the artist they support.
For the healthcare industry, a blockchain could store medical records, according to Business Insider.
It could detail all patient-doctor communications, making it easier for different doctors and specialists to view a historical record of a patient's health.
However, it's still too early to tell what crypto coin will be the payment method of choice on blockchain platforms.
There are 1,344 cryptocurrencies listed on CoinMarketCap.com right now, all vying to solve different problems. Eventually, there could be just a handful of cryptocurrencies that are adopted by mainstream audiences as the most-used payment solutions.
Bitcoin may not be one of them.
Learn How to Turn $500 into $1 Million: This Sunday school teacher's "retirement career" made him a millionaire. This book will teach you how you can do it too. Claim your FREE copy...
And to be useful as a currency, these currencies will need to maintain a consistent value, which means the currencies that become adopted as payment methods won't see the 1,000% gains we've seen this year.
Now, some will argue that Bitcoin will always be used as a store of value, and thus its price will continue to grow.
A store of value is an asset that maintains its value without depreciating.
But again, it's just too early to tell what cryptocurrency could be the preferred vehicle for wealth storage. The BitBar coin was launched in 2013 as a "larger store of value per unit than conventional cryptocurrencies such as a Bitcoin," according to its website.
If Bitcoin isn't used as a payment solution, and it isn't the best cryptocurrency to store value, the price could plummet. Also, there's nothing stopping Bitcoin prices from just plummeting on their own if the buying slows.
But even though there are risks to owning Bitcoin, for investors who only buy what they can afford to lose, 2018 could be very profitable for Bitcoin owners...
Where Cryptocurrency Experts See the Price of Bitcoin Heading