With Bitcoin prices climbing 1,750% so far in 2017, investors everywhere are eager to get involved in cryptocurrencies. That's why we wanted our readers to know the top Twitter Inc. (NYSE: TWTR) cryptocurrency accounts to follow to be informed about this lucrative market...
Investing in Bitcoin and other crypto coins is still highly speculative, and there's also a lot of misinformation out there.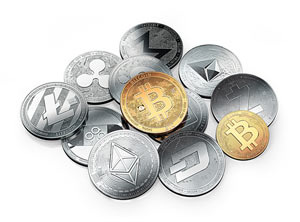 But with the insight from some of the best minds in the crypto space, you'll be better informed and find the most profitable opportunities.
The list starts off with our own cryptocurrency expert, who first started mining Bitcoin six years ago...
Cryptocurrency Twitter Account to Follow No. 5: Dave Zeiler
Our in-house cryptocurrency expert, Zeiler first mined Bitcoin in 2011, when it was still feasible for an amateur to do so.
Since then, he's written more than 165 reports on cryptocurrencies.
He's also provided Money Morning readers with exclusive interviews, like his Oct. 6 report on the Bitcoin Gold hard fork, where he talked to two team members behind Bitcoin Gold.
Zeiler shares all of his analysis on his Twitter account, which you can follow, right here.
Cryptocurrency Twitter Account to Follow No. 4: Spencer Bogart
Bogart was one of the first Wall Street analysts to study Bitcoin and cryptocurrencies, according to CoinDesk.com.
He's the head of research at Blockchain Capital, a venture capital firm that invests in blockchain-related companies.
Some of Blockchain Capital's investments include the cryptocurrency exchanges Coinbase, Abra, and Kraken. It's also invested in Tierion, a company that uses blockchain technology to secure and share data.
Sign up for SMS so you never miss special events, exclusive offers, and weekly bonus trades.
You can follow him on Twitter, right here.
Cryptocurrency Twitter Account to Follow No. 3: Charlie Lee
Lee created the cryptocurrency Litecoin in 2011, which he calls the "silver" to Bitcoin's "gold."
The idea behind Lee's design is Bitcoin will act as a store of value, while Litecoin is used for everyday spending because of its faster transaction times and lower fees.
Must Read: Can Ethereum Reach $1,000?
Lee was a software engineer at Alphabet Inc. (Nasdaq: GOOGL) from September 2007 to July 2013, and he was also the director of engineering at the digital currency exchange Coinbase from July 2015 until June 2017.
You can see what the Litecoin creator has to say about the crypto markets each day, right here.
Cryptocurrency Twitter Account to Follow No. 2: Andreas Antonopoulos
Antonopoulos is the author of "The Internet of Money, Mastering Bitcoin: Programming the Open Blockchain" and "Mastering Ethereum: Building Smart Contracts and Dapps."
He became so enamored with Bitcoin in 2012 that he quit his job as a freelance consultant and started speaking at conferences, consulted startups, and wrote free articles.
In appreciation of Antonopoulos spending his own time and money to educate people about Bitcoin, the crypto community donated $1.6 million worth of Bitcoin to him on Dec. 8.
You can follow him on Twitter, right here.
Cryptocurrency Twitter Account to Follow No. 1: Vitalik Buterin
Even though he is just 23 years old, Buterin has accomplished a lot in just a short time.
He proposed the idea for Ethereum in 2013, a blockchain-based platform that allows smart contracts to operate. Smart contracts are self-executing deals between two parties that have agreed to specific terms.
And he dropped out of the University of Waterloo in 2014 when he received the Thiel Fellowship for $100,000.
The Thiel Fellowship was created to provide guidance on entrepreneurship and allow individuals to drop out of school to pursue other work.
After leaving Waterloo, Buterin went on to work on Ethereum full time.
From just an idea in 2013, the Ethereum coin now has a $66 billion market cap.
Start following Buterin on Twitter today.
Up Next: Never Miss a Cryptocurrency Opportunity Again
Did you know we have a free research service that finds the most profitable opportunities in cryptocurrencies today?
It gives you real-time recommendations and price updates on only the best ways to make money now.
Here's everything you need to know.
Follow Money Morning on Twitter, Facebook, and LinkedIn.