This week, mainstream news outlets reported Intel Corp. (Nasdaq: INTC) processor chips have major vulnerabilities as a result of two new types of bugs called Spectre and Meltdown.
Because Intel's chips are used in nearly every application, from personal laptops to cloud serves, these vulnerabilities are going to be catalysts for cybersecurity companies who can fix the glitch. And in a bit, we'll reveal our three top cybersecurity stocks poised to profit from this massive vulnerability.
Intel commands a dominant 81.2% share of the central processing unit (CPU) market, according to cpubenchmark.net.
According to pcworld.com, basically every Intel processor released since 1995 has these vulnerabilities.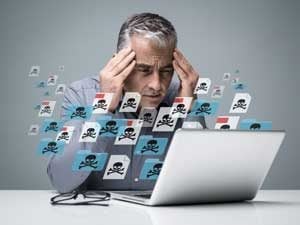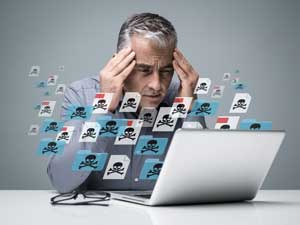 Although almost all processers are vulnerable to Spectre, only Intel processors are vulnerable to Meltdown.
Meltdown also happens to be the more destructive exploit. That's why all major tech companies, like Alphabet Inc. (Nasdaq: GOOG) and Amazon.com Inc. (Nasdaq: AMZN), are racing to patch their systems to protect against Meltdown as fast as possible.
Because of Intel's 81.2% market share, almost every computer, as well as every single Apple Inc. (Nasdaq: AAPL) Macbook, are vulnerable as a result of these bugs.
And there are only two possible solutions for affected devices.
Download a patch for the device's operating system and apps to protect against the vulnerabilities, which will also slow down the device.
Replace current Intel CPUs or devices containing Intel CPUs with a different CPU that does not have the vulnerability (of which there are none yet).
Individual users will be at the lowest risk of being hacked and can probably just patch their devices with minimal performance losses.
FREE PROFIT ALERTS: Get real-time recommendations on the best cybersecurity stock opportunities the moment we release them. Just sign up here, it's completely free...
Businesses, on the other hand, are at the greatest security and financial risk. Companies unable to take a performance hit and unable to afford to replace their Intel CPUs will have to depend more heavily on cybersecurity companies.
As a result, this security flaw will be a major growth driver for cybersecurity stocks in 2018. It's important to get into these stocks as soon as possible, before traders fully digest the widespread impact of Intel's chip vulnerability.
Now that we've explained the extent of the vulnerability, here's the first cybersecurity stock positioned to profit...
Top Cybersecurity Stock to Buy, No. 3: Varonis Systems Inc.
Varonis Systems Inc. (Nasdaq: VRNS) provides a software platform for businesses to manage, secure, and migrate their data. The company specializes in storing spreadsheets, Word documents, and e-mails that may contain financial information, intellectual property, or confidential employee information.
Based in Manhattan, Varonis' customers include leading payroll-software company Automatic Data Processing LLC (Nasdaq: ADP), International Business Machines Corp. (NYSE: IBM), and the General Services Administration and U.S. Department of Homeland Security.
Having large corporations and government agencies as customers will be a boon for VRNS shares in 2018. These larger and more mature organizations tend to have significantly older computer systems than younger companies.
Tech giants like Alphabet and Amazon, which are in the cutting-edge, cloud-based server business, will be able to move quickly to patch their system to protect against Spectre and Meltdown bugs.
Government agencies and older firms like ADP run on much older computer systems. They continue to do this because it's cheaper than overhauling their systems.
And we all know government processes already move at a snail's pace, so they won't be able to afford performance losses. Therefore, they will be forced to rely more heavily on Varonis for security.
You Have to See It to Believe It: The Night Trader's most powerful tool tells him exactly which stocks are set to go up tomorrow, the next day, the day after that, and beyond. And it is rarely ever wrong. Click here to learn more...
Impressively, Varonis Systems has matched or beaten analyst earnings and revenue expectations in 14 out of 15 quarters (since the company's IPO in Q3 2014). So it's no wonder why VRNS shares have climbed 92.7%, from $26.75 to $51.55, over the last 12 months.
Even with its strong performance so far this year, VRNS shares still have room to grow. The 11 firms covering the company have an average price target of $53.73, with a high target of $60, according to S&P Capital IQ. From current levels, this represents near-term upside of 4.23% and 16.4%, respectively.
But the stock's upside could be even greater now that this wave of bugs is forcing its clients to beef up their security.
The next company on this list was visiting the region this attack took place in just two days before it was reported...
Top Cybersecurity Stock to Buy, No. 2: CyberArk Software Ltd.
Israel-based CyberArk Software Ltd. (Nasdaq: CYBR) provides encrypted password-management services to organizations across the world.
Rather than having employees attempt to manage their own passwords, CyberArk's Enterprise Password Vault tool provides organizations a way to monitor all password entry attempts through one platform.
And the company's other products all follow this principal of monitoring employee access points under one encrypted platform.
These measures will allow companies to bolster their systems' weakest points, which are the points where humans interact with them.
Video
Meet the Trading Expert Who Could Help Make You a Millionaire
CYBR shares have fallen 14% over the last 12 months, from $48.44 to $41.67, but have rebounded from August's low of $40. This drop came as a result of weak earnings results compared to 2016, caused by some difficulty closing new deals in Europe.
However, investors are optimistic that this is a temporary setback, and that means you can buy in at a discount.
According to S&P Capital IQ, the 18 analysts covering CyberArk are still bullish on the company, with an average price target of $50.40 and a high target of $57. This represents upside from current levels of 20.95% and 36.79%, respectively.
The next cybersecurity stock on this list has performed even better than CYBR and is one of the industry's top performers...[mmpazkzone name="in-story" network="9794" site="307044" id="137008" type="4"]
Top Cybersecurity Stock to Buy, No. 1: Palo Alto Networks Inc.
Silicon Valley-based Palo Alto Networks Inc. (NYSE: PANW) specializes in cloud and "Internet of Things" security platforms.
PANW's advantage is its comprehensive cybersecurity platform for customers with many different access points and vulnerabilities. This has allowed it to secure large tech giants like Microsoft Corp. (Nasdaq: MSFT) and Amazon as customers.
Take Amazon, for example. We're all familiar with the company's retail website, where buyers and sellers can make transactions from computers and mobile devices.
But there's also Amazon's cloud-based business platform, Amazon Web Services (AWS). Users interact with AWS through different access points, and this presents its own set of vulnerabilities.
Being able to manage a broad range of vulnerabilities under one platform is crucial for large companies.
And now, with a glaring vulnerability to Spectre and Meltdown at the heart of every server rack in its own massive data centers, Amazon will need to rely more heavily on Palo Alto Networks.
Though not yet profitable, PANW has grown its revenue every single year since 2009, from $13.4 million to $1.76 billion as of fiscal year 2017 ended in July. That represents a compound annual growth rate of 72%.
Over the last 12 months, the company's stock is up 15.5%, from $132 to $152.47, but it still has significant upside remaining. According to S&P Capital IQ, the average price target for PANW based on 39 analysts' estimates is $167.90, with one analyst targeting as much as $196. From current levels, those price targets give the company 10.1% and 28.55% upside, respectively, over the next 12 months.
Bottom Line: The Intel chip vulnerability is a big deal. There are tons of players in the semiconductor industry ready to take market share away from Intel. And it's going to take a ton of work to clean up Intel's mess. This is only the beginning of a story where cybersecurity stocks and chipmakers are big winners and Intel becomes a big loser.
Don't Miss This Story Unfold
Did you know we have a free research service that finds the most profitable cybersecurity stock opportunities? It gives you real-time recommendations and price updates on only the best ways to make money now.
Here's everything you need to know.
Follow Money Morning on Twitter @moneymorning, Facebook, and LinkedIn.