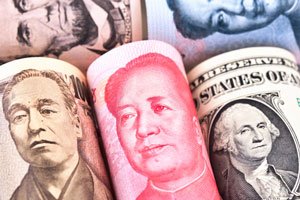 You've heard about China's economic boom for years. However, the time to act has finally arrived. That's why we're bringing you the best growth stock to buy today to play this boom.
We've already seen growth stocks soar in China...
Baidu Inc. (Nasdaq: BIDU), the company that manages China's dominant search engine, has seen its stock price increase 2,000% since 2006. Investment conglomerate Tencent Holdings Ltd. is up a modest 118,550% since its debut on the Hong Kong Exchange in 2004.
But we're looking for growth stocks with gains ahead of them...
Analysts recently estimated that China's commercial revenue will rise to nearly 4.8 billion dollars in to 2018, a full 12% increase over 2017.
These gains are the result of a perfect storm of new technology and a growing consumer base that is quickly adapting 21st-century tech in everyday life.
And the storm is far from over.
In fact, China is currently presenting a once-in-a-lifetime investment opportunity in one of the world's most exciting growth stocks.
Before we look at our pick, let's explore the catalysts behind China's rise as a global consumer superpower.
China Is the New Frontier for Consumer Growth Stocks
The numbers are staggering. According Forbes, China currently has more than 500 million middle-class consumers, nearly twice the population of the entire United States.
Analysts estimate that this number will balloon to well over 600 million by 2022.
This expanding middle class powers an immense retail market. Just last year, China's retail industry was worth $6 trillion dollars. This is a 400% increase from 2010 levels and over nine times the amount from 2000.
Free Book: The secrets in this book helped one Money Morning reader make a $185,253 profit in just eight days. Learn how to claim your copy here...
Money Morning Executive Editor Bill Patalon put these figures into a global perspective.
"Remember, on a global basis, two-thirds of 'real GDP' is due to China and emerging Asia," Bill said. "The former 'Big Three' - North America, western Europe, and Japan - only account for 29% of what the world produces."
In other words, China's rates of production and consumption are off the charts. And they're only going up.
While these figures are impressive, there's an even bigger factor that singles out our favorite growth stock...
Growth Stocks Are Riding the Rise of E-Commerce
In the digital age, online shopping is increasingly the consumer's preferred method of making purchases.
According to a report from Forrester Research Inc. (Nasdaq: FORR), online sales will account for 17% of all retail sales in the United States by 2022.
However, China's e-commerce market is already well over that figure, with the nation projected to account for 60% of global e-commerce by the end of the decade.
That's why Bill loves this company, which controls over 50% of China's e-commerce market. Our pick is set to dominate China's retail industry as it continues to grow.
"A company in prime position to tap that uber-rich vein of wealth and growth is one you must, must, must own," Bill said. "That's a recipe for single-stock wealth, a 'buy-one-and-you're-done' moneymaker."
Here's Bill's recommendation - and the incredible numbers behind it...