A recent poll conducted by computer security pioneer and eccentric altcoin enthusiast John McAfee revealed crypto investors' greatest fears about the future of digital assets...
...that the government is coming for digital assets.
In fact, just this week lawmakers have pushed for cryptocurrencies to be regulated by the SEC.
But we're not worried, and you shouldn't be either.
Here's what Congress is saying about cryptocurrencies - and how you can make money no matter what it does...
John McAfee Reveals Crypto Investors' Biggest Concern via Twitter
On Feb. 7, McAfee asked cryptocurrency investors on Twitter what they believed to be the greatest threat to the future of digital coins...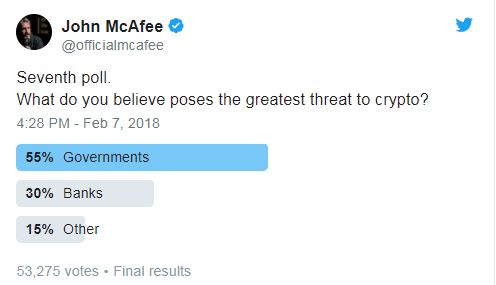 Of those who responded to McAfee's survey, over half voted that "governments" pose the greatest threat to cryptocurrencies.
Don't Buy Bitcoin Until You See This: Tom Gentile just shared an urgent video giving the name of a cryptocurrency he thinks could surge in the very near future. Click here to see his crypto trade recommendation now...
It's not hard to see why...
Bipartisan momentum has grown in both the U.S. Senate and House of Representatives for action to address the risks posed by virtual currencies to investors and the financial system.
"Even free-market Republican conservatives, normally wary of government red tape, said regulation could be needed if cryptocurrencies threaten the U.S. economy," Reuters reported on Monday (Feb. 19).
"I'm a total free-marketer, so I don't want to regulate," U.S. Rep. Dave Brat (R-VA), a member of the conservative House Freedom Caucus, stated.
"But if it's a currency that could destabilize the whole economy, you're going to have that conversation," Brat added, according to Reuters.
Indeed, legislators from across the aisle are currently sounding the alarm on cryptocurrencies, claiming they aid and abet money laundering and terrorist financing schemes, while hurting consumers with their volatility and undermining trust in the global financial system overall.
In fact, policymakers on Capitol Hill are pushing for digital assets to be regulated as securities and subject to the U.S. Securities and Exchange Commission (SEC) investor protection rules.
The SEC, for its part, agrees with Washington.
As does the U.S. Commodities and Futures Trading Commission (CFTC).
And leaders from both commissions admitted as much just a few weeks ago...
Federal Regulators Are Pushing to Control the Crypto Market
On Feb. 6, SEC Chair Jay Clayton and CFTC Chair J. Christopher Giancarlo stated in a Senate Banking Committee panel that American cryptocurrency markets now require "a coordinated regulatory scheme," reported Motherboard that day.
"We must put in place sound regulatory frameworks," Giancarlo said during his testimony, referring to federal action.
Currently, cryptocurrency guidelines in the United States exist as an amalgamation of ambiguous state regulations.
Committee Chair Mike Crapo (R-ID), however, seemed all too eager to give Clayton as much control as he wanted over the crypto markets. He asked the SEC chair if the commission would specifically need more legislative power in order to install such federal framework.
"I think we may," Clayton admitted, without elaborating on the extent of the additional power he would want.
Regardless of Clayton's ambiguity, one thing's for sure: Crypto regulation in the United States is at the forefront of legislators' minds, just as the voters in McAfee's poll feared.
But we're not worried.
For starters, the ambiguity in the panel discussion alone proves lots of time and talking still need to go down before the federal government imposes any new crypto rules.
And even if future regulations do send crypto prices south, that doesn't mean you can't profit.
You see, there's a way that you could make eye-popping gains from crypto before and after federal regulators strut their bureaucratic stuff.
And this expert can show you how to do just that...
Man Crushes S&P 500... Now He's Taking on Crypto
Last year, Tom Gentile used his pattern-trading software to help give his readers a shot at beating the S&P 500.
Now he's using that technology to help pinpoint recommendations in a market that grew 164 times faster than stocks: cryptocurrencies.
The windfall of profits he expects is staggering.
Click here to learn more about Tom's system - and see the No. 1 cryptocurrency he's buying right now on camera!
Follow Money Morning on Facebook, Twitter, and LinkedIn.
[mmpazkzone name="end-story-hostage" network="9794" site="307044" id="138536" type="4"]