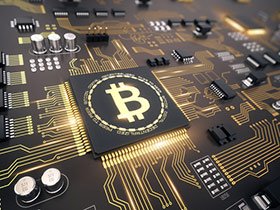 Money Morning Director of Technology & Venture Capital Research Michael Robinson is still a big fan of Bitcoin and many of the other cryptocurrencies out there. But he acknowledges that they are not for everyone.
According to Michael, the marketplace for cryptos has gotten too risky for the average investor to navigate safely.
So instead, he's bringing Money Morning Members a pick-and-shovel Bitcoin mining stock today. It offers tremendous upside with just a fraction of the risk of cryptocurrencies...
There are numerous issues still plaguing cryptos right now, including: threats of regulation, actual regulation, comments from assorted government officials, market manipulation, and good old-fashioned hype.
Robinson believes all these issues will resolve, but until they do, the time is not quite right to dive back into the actual cryptos. He assured his readers that when the time is right, he'll give you the "go" signal.
But even now, when the market seems crazy, there are still ways to profit without having to buy Bitcoin or any other crypto coin.
Several weeks ago, he recommended Microsoft Corp. (Nasdaq: MSFT) for its use of blockchain technology as a key part of its Azure cloud computing platform. It was a great software play on cryptocurrencies in the grand tradition of the pick-and-shovel method of investing. Own the tools that others use to mine their fortunes. MSFT stock alone is up nearly 43% in the last year.
But there is another way to own the picks and shovels, and that's investing in the hardware used for mining.
Don't Miss This Shot at a $78,000 Windfall: This tiny firm is about to make the entire world wire-free. As its game-changing technology revolutionizes the global power structure, its stock could hand investors a massive return. Learn more...
Bitcoin and other coins are "mined" on very advanced computers with a lot of raw processing power.
Sure, it's theoretically possible to mine bitcoins on your home computer, but realistically, even computers armed with the top gaming and virtual reality capabilities are still far too undersized to compete with the installations of professional coin miners.
The Bitcoin mining stock Robinson is bringing readers today is a Silicon Valley semiconductor leader whose programmable chips are favorites of industrial-grade Bitcoin miners. And its crypto mining chips recently helped it record rising revenue for nine straight quarters.
But it does not have all its corporate eggs in the cryptocurrency basket.
This company ranks as one of the most advanced chip designers in the world, and 47% of sales come from aerospace and defense. Another 35% of sales come from the communications and data center segments. Most of the rest of sales are derived from the broadcast, consumer, and automotive sectors.
The combined value of all those sectors is a beefy $2.6 trillion. And the company's current R&D efforts are aimed at tapping into new fields that will grow into massive ones.
Here's one of the best Bitcoin stocks on the market today...
Here's Our Top Bitcoin Mining Stock for 2018