With the U.S. Federal Reserve's rate hike now behind us, the price of silver could well be embarking on a fresh rally.
In fact, the precious metal is starting to act well in the face of both market weakness and market strength.
The U.S. dollar has tried multiple times since mid-February to push higher, but each attempt was fruitless.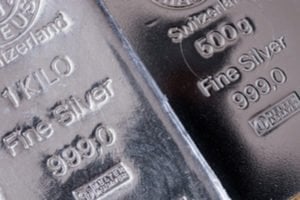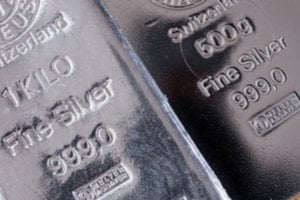 Plus, silver stocks are also starting to look like they may be outpacing the gains in silver itself, further suggesting a new run higher for the precious metal.
Meanwhile geopolitics, stock markets, and central planners are helping to provide a floor for silver prices as uncertainties rise, stocks become volatile, and budget deficits explode.
There are three technical indicators I'm watching right now that suggest higher silver may not be far off. Before we get to the indicators, here's how the price of silver is trending now...
How the Price of Silver Is Trending This Week
Leading into the FOMC meeting, silver opened on Tuesday, March 20, under pressure, as the dollar saw strong buying. The U.S. Dollar Index (DXY) ran up from 89.80 and climbed through the day to reach 90.43 by 5:00 p.m. That caused silver to open weak at $16.24, then sold down to a mid-morning low of $16.13 before recovering to close at $16.17.
You Must Act Now: America is headed for an economic disaster bigger than anything since the Great Depression. If you lost out when the markets crashed in 2008, then you are going to want to see this special presentation...
On Wednesday, silver opened up over the previous close, at $16.21. And as if in anticipation of the rate hike confirmation, the grey metal quickly jumped to $16.45 by noon, then jumped further in the wake of Powell's post-hike remarks. That took the DXY back down to 89.65, helping silver to climb further to a 4:00 p.m. peak at $16.59 before settling back to $16.55 at the close. Meanwhile, the Global X Silver Miners ETF (NYSE: SIL) had jumped an impressive 3.64% on the day.
But Thursday was rough on stocks, as U.S. President Donald Trump threatened to slap $50 billion in tariffs on Chinese imports over its unfair trade practices involving intellectual property with American companies. The S&P 500 fell 2.5%, and the Dow lost 724 points, or 2.93% on strong selling action. For its part, silver gave back only 1.2%, ending at $16.34, as the DXY gained slightly.
Here are the DXY and Dow over the last five days, for perspective.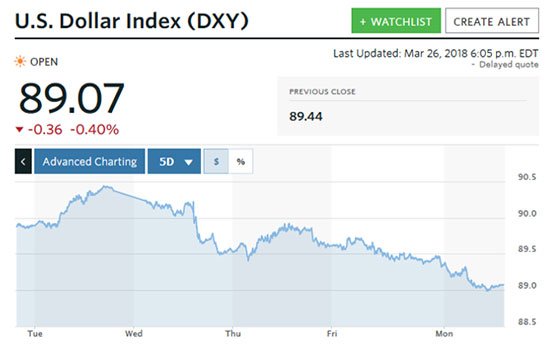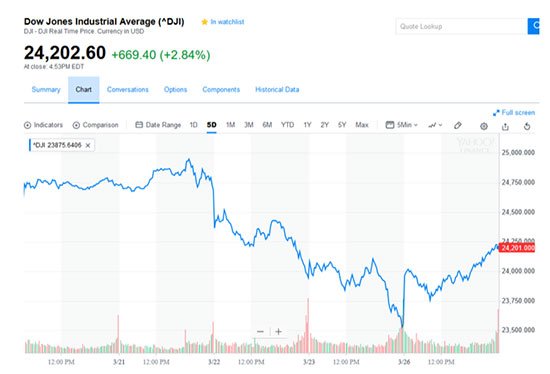 Then, on Friday, as the Dow took another shot to the gut, silver popped. In fact, silver started higher late Thursday as the dollar faced renewed selling. By Friday's open, silver reached $16.49 and climbed slightly from there, as the DXY weakened gradually. At 5:00 p.m. silver was slightly higher, at $16.53, while the Dow had lost another 1.8%.
But on Monday, March 26, stocks turned higher again on reports that the United States and China were open to renegotiating tariffs and imbalances in trade. Still, the DXY weakened from 89.50 down to 89 before a slight recovery. And silver headed up once again, opening at $16.57, then peaking at $16.75, before settling back to a strong finish at $16.58.
And that was just the start for silver's momentum as I see it. In fact, I've found three separate technical indicators that all indicate the price of silver is poised to continue rallying from here...
3 Reasons I'm Bullish on the Price of Silver Now
Join the conversation. Click here to jump to comments…
About the Author
Peter Krauth is the Resource Specialist for Money Map Press and has contributed some of the most popular and highly regarded investing articles on Money Morning. Peter is headquartered in resource-rich Canada, but he travels around the world to dig up the very best profit opportunity, whether it's in gold, silver, oil, coal, or even potash.