With lists of more than 200 marijuana stocks to invest in floating around the Internet, finding the right marijuana penny stock to watch is difficult. But finding the right stock can double your money, just like when Canopy Growth Corp. (OTCMKTS: TWMJF) surged 140.09% over the last year.
We've done the hard work of combing through all available marijuana penny stocks to find one worth your attention, and we'll reveal it in just a bit.
Now, it's true most pot stocks are penny stocks, which are notorious for wild price swings. The volatility causes a lot of investors to buy high and sell low, which will always lose your hard-earned money.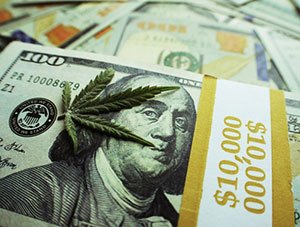 To be clear, you never want to invest what you can't afford to lose.
However, for Money Morning readers who understand the risk, we found a potential 52% profit opportunity in the next 12 months.
This company I uncovered already has four dispensaries in Arizona, as well as plans for "10 U.S. dispensaries and four production facilities in four states."
There is no such thing as a "safe penny stock," but the fact that this company already has an established presence in Arizona and future expansion plans helps limit the risk.
And thanks to its Arizona dispensaries, sales of cannabis and cannabis concentrates in March reached $4 million for the first time in the company's history.
But this stock has much bigger potential…
That's because there's a push to increase cannabis legalization throughout The Grand Canyon State. The Arizona Medical Marijuana Expansion Initiative could appear on Arizona's Nov. 6, 2018, ballot, which would increase the number of qualifying patients to receive marijuana.
Arizonans aren't stopping there, either.
The Arizona Marijuana Legalization Initiative – a proposal to fully legalize marijuana in the state – could also appear on the Nov. 6, 2018, ballot. That would legalize the possession, use, and consumption of marijuana for all persons 21 and older.
Full legalization in Arizona would be a major catalyst for the stock we're about to show you. But this company isn't limited to just Arizona. In fact, it'll be tapping into legal marijuana markets even before November.
On top of its U.S. operations and expansion plans, we're really excited about this company's future production facility up north.
This cannabis firm is developing a 72,342-square-foot facility in Ontario, Canada.
We're going to share just how much money the expansion to Canada could make the company in just a bit.
With full marijuana legalization scheduled for this summer in Canada, the new facility could be a gold mine, and shareholders could reap the rewards of owning this pot stock.
More sales will attract more investors, and the demand could send the pot stock price up 52% in the next 12 months, according to one analyst.
However, that could be too conservative, as full legalization in Arizona in 2019 and full legalization in Canada in the summer of 2018 could send this stock skyrocketing.
Pot Profits: Forget Jeff Sessions! These Five Canadian Pot Stocks Are Set to Skyrocket. Click Here…
Again, never invest what you can't afford to lose.
But if you want the opportunity for a double-digit return, this is the marijuana penny stock that could make it happen…
The Price of This Marijuana Stock Could Soar Thanks to Full Legalization