Even though the Dow is just one index of the broader stock market, the recent volatility on Wall Street has some investors worried about a potential Dow Jones crash in 2018.
The fear is certainly understandable, considering the Dow plummeted 1,000 points on Feb. 5 and another 1,000 points between March 21 and March 22.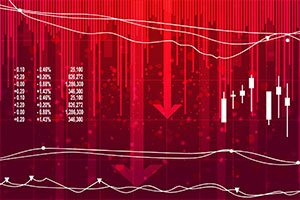 While the drops were contained, it was jolting enough for investors to wonder if a stock market crash, or even a stock market correction, could be on the horizon.
While we aren't predicting a stock market crash in 2018, what has happened in just the first quarter is enough to give even the most aggressive investor pause. Unfortunately, there could be more bad news on the way.
Again, we don't believe that a DJIA crash will be a reality, but there are a few bearish signs that we want our readers to be aware of.
And it's not too late to take action to protect your portfolio from the next market crash…
The Fed Is Stoking Fears of a Dow Jones Crash
The U.S. Federal Reserve has been hiking interest rates, with no plans of stopping. The Fed has hiked rates six times since December 2015, and it plans to hike rates another two times this year alone.
That's crucial, since the Fed's low interest rate policy is one of the reasons stocks have soared to record-high valuations.
When the Fed lowers interest rates, it's attempting to jumpstart the economy when it is struggling. Easing monetary policy makes borrowing cheaper, so a business can gain access to affordable cash to use for growth.
You Must Act Now: America is headed for an economic disaster bigger than anything since the Great Depression. If you lost out when the markets crashed in 2008, then you are going to want to see this special presentation…
This is one of the reasons for the drastic interest rate reductions during the Great Recession of 2008. Before the stock market crash, interest rates were over 5%, but the Fed slashed them to 0.25%, which was a historical low.
These low interest rates were effective to a point. Companies did borrow cash at a massive volume, but instead of expanding their businesses, they used the money for share buyback programs. In buying back their own shares, this boosted stock prices and shareholder value.
From 2009 through 2016, publicly traded companies bought back $2.1 trillion worth of shares and borrowed $1.9 trillion in cheap funds. These buyback programs are one of the catalysts for the 250% growth in the stock market.
And that sort of growth drove valuations to heights only seen before major economic disasters.
The Shiller P/E ratio measures the stock market's overall valuation, and it is now at 31.55, which is double its historical average. This ratio has only been higher before the dot-com bubble burst, and it's currently higher than it was in 1929, before the worst stock market crash on record.
This doesn't mean a stock market crash is coming, but it shows the Fed is tightening monetary policy just as stock valuations are reaching extreme highs.
And as volatility has nearly doubled this year amid the Dow Jones corrections and pullbacks, we want investors to be prepared for the possibilities ahead.
Here's how to protect your portfolio, and even profit, no matter what comes next…
How to Protect Your Money from a Dow Jones Crash