Morgan Stanley just issued a dire proclamation about the semiconductor industry. And it couldn't be more wrong. In fact, we've uncovered a semiconductor with serious profit potential…
At the end of 2017, Morgan Stanley (NYSE: MS) announced semiconductor stocks were "currently at a peak" and that investors should have "increasingly negative prospects for the industry."
Morgan Stanley's comments sent the semiconductor industry into a tailspin – by late December, the sector had undergone a 10% correction, and Wall Street prospects for the industry's 2018 performance were increasingly dim.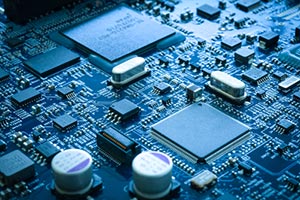 However, they couldn't have been more wrong. Rather than peak in 2017, the semiconductor industry has continued to aggressively expand, growing 20% year over year in just the first four months of 2018.
Wall Street's mistake left many investors wishing they had held on to industry giants like Nvidia Corp. (Nasdaq: NVDA) or Advanced Micro Devices Inc. (Nasdaq: AMD), which have generated stellar returns from the industry's growth. In just the last four months, Nvidia has gained 16%, while AMD has risen 6%.
But there's one semiconductor stock on the brink of explosive growth, and it's one you can't afford to pass up.
We'll show you that stock in a bit, but first, here's why Wall Street got it so wrong about the semiconductor industry…
Semiconductors Have Spectacular Growth Prospects
When Morgan Stanley issued its dire prediction for semiconductor stocks in December of last year, the industry had just gone through 16 months of continuous growth. Over the year, the sector was up 35% – out pacing the S&P 500's astonishing return of 21%.
After such a spectacular year, it's easy to see why Wall Street thought the industry couldn't possibly go any higher.
However, Morgan Stanley is overlooking new, high-tech industries reliant on semiconductors, which will help propel the industry even higher…
Fast Money: This powerful secret made one man a millionaire. Now he's sharing it live on camera – find out how you could use it to become $2,918 richer in less than minute. Click here…
You see, semiconductor chips are a necessity for some of the fastest-growing industries in the world.
Just look at e-sports and crypto mining.
E-sports are multiplayer video game competitions for professional gamers. E-sports has bolstered the sale of the gaming consoles needed for the sport – consuls that require hundreds of thousands of semiconductor chips for production.
Already, Microsoft Corp. (Nasdaq: MSFT) has reported a 15% jump in the sale of the Xbox console in just the last year. And this grow isn't slowing down anytime soon. In 2018 alone, e-sports is expected to grow by 38% and break $1 billion in revenue by 2019.
Plus, the crypto-mining industry is also fueling the semiconductor sector's stellar growth…
Semiconductor chips are an essential part of crypto mining – they provide the processing power necessary for unlocking blockchain algorithms.
Last year, global crypto mining increased 8,500%, helping to drive the semiconductor industry's 35% growth. AMD announced that over 10% of 2018's first-quarter revenue was the result of crypto-mining purchases.
Thanks to these strong tailwinds behind it, global semiconductor industry sales are expected to grow from $408 billion in 2017 to $439 billion in 2018 – a growth of 7%.
However, while many investors are turning to industry giants like Nvidia and Intel Corp. (Nasdaq: INTC) for profit, these companies have nowhere near the potential gain of our pick.
While analysts see Nvidia gaining a respectable 30% in the near term, we've found a semiconductor stock with more than double the potential…