China's solar industry is already the world's largest, but its future growth potential is simply staggering.
It's a moneymaking opportunity you'll rarely ever see again.
But there's no time to wait. The country's renewable energy growth is simply happening too quickly to not act now.
Ex-U.S. Intelligence Officer exposes four-play, 1,329% combined profit opportunity - click here to learn about these profit plays occurring amidst an international conspiracy.
To help you get in on this profit windfall, we're showing you the best China solar stock to own right now.
Before we reveal that stock pick, here's exactly why China's renewable energy industry is potentially so lucrative...
How China Will Dominate the World in Solar Energy
China didn't become the world's leading solar energy producer by accident. The country has set ambitious goals for solar energy production - and shattered them.
In 2016, China created its most recent five-year economic plan, and it set a goal of producing 105 gigawatts of solar energy by 2020.
This was an ambitious goal. China would need to increase solar energy production by 45% per year for each of the five years.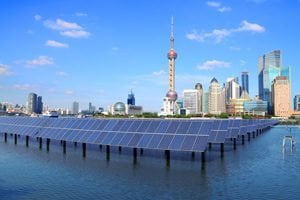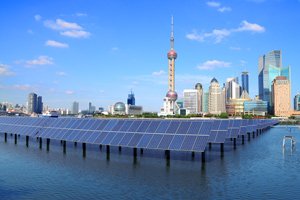 But China didn't meet its goal.
It shattered it.
By 2017, China was producing 112 gigawatts of solar generated electricity, 7% over its 2020 goal and four years early.
According to Frank Haugwitz, Director of the Asia Europe Clean Energy (Solar) Advisory (AECEA), China increased its distributed solar segment by an astounding 217% in the first quarter.
But China's incredible solar energy growth wasn't happenstance. The Chinese government is pouring money into the solar sector.
In 2017, China completed construction on the world's largest solar farm and the world's largest floating solar farm.
And that's what China's already done.
What it has planned for the future is even more impressive - and even more profitable for you...
Why China's Solar Future Is a Profit-Making Machine
China's ambitious solar energy policies are only just beginning.
The country has pledged to spend an additional $360 billion on renewable energy over the next two years. The AECEA also predicts that China could install between 40 and 45 GW of solar capacity in 2018 alone.
But the real catalyst behind China's explosive solar growth potential is its efforts to replace coal as an energy source.
Coal currently fuels 59% of China's electricity, and its pollution is creating an air-quality crisis in the country. But solar power produces no pollution. Plus, it doesn't require the heavy machinery and manpower to extract it.
And if China is able to replace just a fraction of its coal-powered electricity with solar, the growth potential will be off the charts...
China consumes roughly 5.9 kWh of electricity annually, which is the most in the world. This is 50% more than the 3.9 kWh used in the United States. That means China's efforts to grow solar power will have huge payoffs.
Solar power generates 5% of China's electricity right now, compared to coal's 59%. But if solar power is able to replace just half of coal's output, the solar industry will have to grow an incredible amount.
According to Wood Mackenzie, China solar generation is expected to grow 700% or more by 2035.
This growth creates a staggering profit potential for investors who know how to harness this potential.
And we have the one stock you need to own as China's solar production kicks into overdrive...
The Best China Solar Energy Stock to Buy Now