Owning the right biotech stocks now could generate massive long-term gains, as the biotech industry could grow 120% by 2025.
Analysts are projecting the biotech sector could be worth $727 billion by 2025, up from $330 billion in sales in 2015.
And we've uncovered the biotech stocks with potential to net the biggest returns...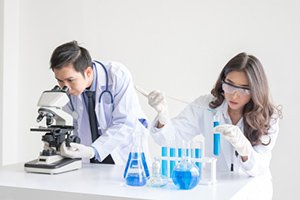 Our propriety stock valuation tool - the Money Morning Stock VQScore™ - ranks stocks according to their growth potential. Stocks with scores over 4 have the most potential, and these biotech stocks popped up with a score of 4.15 or higher.
Buying shares of these stocks could be like picking up Netflix Inc. (Nasdaq: NFLX) stock before it soared to today's record highs. A $1,000 investment in NFLX when it had a VQScore of 4-plus would be worth more than $16,000 today.
Stunning Video Footage: Watch this guy become $4,238 richer in under a minute - then follow his simple instructions to learn how you could pocket a potential $2,918 in just one move. Click here...
And the first stock on our list is tapping into 120% industry growth, as it already supplies 20 of the top 25 pharmaceutical companies...
Top VQ Biotech Stock, No. 3: Repligen Corp.
Repligen Corp. (Nasdaq: RGEN) provides high-value products and flexible solutions that address the most critical steps of producing biologic (complex molecules manufactured with living microorganisms, plants, or animal cells) drugs.
According to the company's website, 20 of the top 25 pharma companies in the world use Repligen's products.
And that's the key to the company returning 398% to its shareholders in the past five years...
Repligen has become a leader in supplying equipment that's required to purify biologics after production.
There were 14 monoclonal antibody drugs approved in 2017, and another 400 are in development.
That brought in a lot of money for RGEN...
From 2016 to 2017, revenue increased 35%. Revenue is also expected to climb another 27% to 32% this year.
Over the next 12 months, analysts at Stephens Inc. expect the RGEN stock price to trade for $50 per share. From today's (May 15) price of $42.01, that's a profit of 19.01%.
But that estimate may be too conservative...
When revenue increased 35% between 2016 and 2017, the RGEN share price climbed roughly 38%. If there's a 32% increase in revenue from 2017 to 2018 and share prices follow revenue growth once again, the RGEN stock price could climb 35%.
The next biotech stock to watch is already a go-to source for generic drug companies, and it just increased its research abilities...
Top VQ Biotech Stock, No. 2: Cambrex Corp.
Cambrex Corp. (NYSE: CBM) was founded in 1981 and is a leading supplier of generic active pharmaceutical ingredients (APIs).
Cambrex has more than 100 generic APIs, and 90 of them are commercially sold.
And one of the reasons CBM has so much growth potential right now is it just built a new analytical laboratory in North Carolina.
The new facility will expand the Cambrex's research capabilities, which will allow for more commercial projects to increase sales.
The site is licensed with the DEA to manufacture schedule II to schedule V substances, which will enhance Cambrex's portfolio of small-molecule API services.
It's too early to tell how much additional revenue this could generate, but it will increase development capacity and resources for the company in North America.
The expanded capacity will allow for more projects, which will generate more money for Cambrex.
Generating more money will attract more shareholders, sending the stock price higher.
From today's opening price of $48.05, First Analysis Securities Corp. expects the CBM stock price to climb 29.03%, to $62 per share, in the next 12 months.
And while both of these stocks scored a 4 on our system, this next biotech stock has the biggest profit potential in the next 12 months...