China is ramping up its war propaganda to its citizens. In an emotional two-minute video released last week, China's People's Liberation Army underscored the personal sacrifice of the nation's army while displaying its latest weaponry that could levy its foes.
The video was released as part of the nation's Army Day and features a moment when the narrator says, "peace behind me, war in front of me."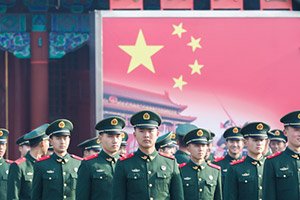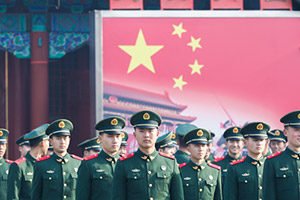 The video also proudly displayed China's combat aircraft, aircraft carriers, long-range ballistic missiles, submarines, and armored vehicles.
According to Eric Wertheim, a naval expert with the U.S. Naval Institute, China is aggressively aiming to build a fleet of aircraft carriers that could rival the United States' Nimitz-class carriers.
Of course, China isn't the only threat to global economic and world order.
Let's look at the other list of stories that suggest confrontation may be on the horizon:
Following the decision by the Trump administration to slap economic sanctions on Turkey over the arrest and detention of American pastor Andrew Brunson, Turkey has reached out to Russia for support. However, its efforts to stabilize its currency have failed after the Turkish lira slumped by double digits last week.
Geopolitical tensions have accelerated in Venezuela after the state accused anti-government activists of attempting to assassinate President Nicolas Maduro. This week, the Maduro regime arrested top political dissidents who have opposed the brutal crackdown of the socialist regime. Many experts are still warning that the nation is on the verge of a brutal civil war, and there is little that the United States can do to affect the outcome. Both Colombia and Ecuador are facing serious humanitarian crises as Venezuelans flee to look for sanctuary.
With so much uncertainly around the world, now is a very good time to invest in U.S. defense stocks.
Don't Miss Out: The Treasury is sitting on an $11.1 billion cash pile, and a loophole entitles Americans to a sizable portion. Some are collecting $1,795, $3,000, or $5,000 every month thanks to this powerful investment…
In addition to providing solid incomes and guaranteed revenue from the world's strongest military on earth, defense stocks continue to perform strongly despite the threat of global economic downturns or societal breakdown.
Based on all of these stories, let's look at the top defense stocks to own in August 2018.
Defense Stock to Own, No. 2: Ducommun Inc.
Our first defense stock to own is aerospace and defense giant Ducommun Inc. (NYSE: DCO).
The defense contractor manufactures components used in commercial, military, and space aircraft. This list includes popular vehicles like the Boeing 737 NG and 777 airliners, the C-17 heavy lift cargo plane, the Apache, Chinook, and Blackhawk helicopters, and the Space Shuttle.
With increasing demand, it regularly sees big orders from the U.S. military, NASA, the U.S. Department of Homeland Security, and a variety of other governmental agencies.
Defense Stock to Own, No. 1: Vectrus Inc.
The truth is that every… single… year… billions of dollars will be spent to keep the U.S. military strong enough to prevent terrorism.
And Colorado Springs–based Vectrus Inc. (NYSE: VEC) provides facilities and logistics services to the U.S. military.
It does everything from airfield and ammunition management to equipment maintenance and repair. It also offers IT services, including important cybersecurity and data-management systems.
It knows its market pretty well, since more than 35% of its 6,700 employees are former military.
It's one of the defense stocks that Money Morning Special Situation Strategist Tim Melvin profiled last week as a "Buy."
You can learn about another defense stock he likes right here.
Public Law 92-313 Creates $11.1 Billion Cash Bonanza