Every expert we talked to said this trend will be the future of the cannabis industry.
We've already found the two best ways to start profiting from this trend.
One expert says it will make this city the epicenter of legal marijuana.
---
Finding trends before they become mainstream is one of the best strategies to banking the biggest long-term gains.
Just ask shareholders of Apple Inc. (Nasdaq: AAPL).
If you bought $990 worth of Apple stock at the IPO on Dec. 12, 1980, your shares would be worth (not including dividends) $521,740 as of Aug. 2, according to Investopedia.com.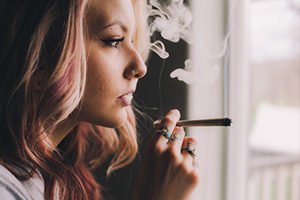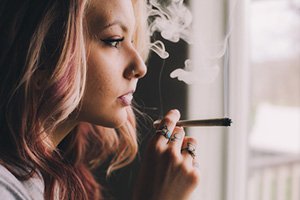 And the $10 billion legal cannabis industry is creating the latest trend with mainstream potential. That's why I talked with marijuana insiders about where the biggest trends in the space will be.
And all the experts I spoke with said marijuana lounges are the wave of the future.
In fact, many of the marijuana insiders I spoke with believe smoking marijuana in a lounge could become just as common as grabbing a beer after work.
For investors, there are two potential profit opportunities on the horizon...
The first is that cities that allow cannabis lounges will become tourist destinations. Cannabis growers and dispensaries in those states could see an uptick in sales. If those companies are publicly traded, more sales will create more demand for a stock.
That sends the stock price higher.
The second is that we could see more real estate investment trusts (REITs) get involved with leasing space for marijuana lounges. The idea of real estate companies leasing space for cannabis firms is so new that there's only one well-known example: Innovative Industrial Properties Inc. (NYSE: IIPR).
As the $10 billion cannabis industry grows, we expect to see more REITs jump on this new "gold rush."
Renegade Investment Expert: "It's time to double down - or even triple down - on your cannabis investments!" Read more...
That's why today (Aug. 27), we had to make sure Money Morning readers saw this special report before the rest of Wall Street catches on to this new development...
Marijuana Lounges Are the Wave of the Future
All of the experts I spoke with believe marijuana lounges are going to be more than just a trend.
And one even pinpointed a city that could be the epicenter of cannabis lounges...
Shanel Lindsay is the Founder and President of Ardent, a Boston-based biotech and medical cannabis device company that produces the NOVA™, a laboratory-grade precision decarboxylator for medical cannabis patients.
"As cannabis comes out of the shadows, we're finally entering the era of legal public consumption. Most cannabis users would probably agree that cannabis is a highly social substance. It's only logical that the next growth area for the industry would be in lounges and shared spaces."
The next experts I spoke with also believe cannabis use is a very social experience...
Frank Lane is the President of CFN Media Group, the leading creative agency and media network dedicated to legal cannabis.
"For many cannabis consumers, a big part of the culture is the social experience. As more and more states legalize cannabis, the demand for spaces where cannabis consumers can come together and enjoy the company of like-minded individuals is only going to increase. In the not too distant future, I wouldn't be surprised for it to be common to meet a friend at a cannabis lounge and catch up over a joint, just as it is common to do so today over a beer at a bar. In fact, in places like San Francisco where cannabis lounges are already legal, this is becoming the norm."
Derek Riedle is a publisher of Civilized, a premium digital media and lifestyle brand that offers an honest reflection of today's cannabis culture.
"The social aspect of consuming has always been a core part of cannabis culture. Countless friendships have been made and relationships strengthened over a shared joint or passed vaporizer. It only makes sense that as more states legalize, cannabis consumption lounges will become more common as consumers become more and more social and leave the cannabis closet."
Our next expert points out that cannabis lounges could actually help with safety...
Jesse Henry is the Executive Director of Barbary Coast, a medical cannabis dispensary committed to providing medical cannabis and its derivatives to patients across the bay area with formulas and prices that meet all levels of economic and medical needs.
"There is definitely a need for cannabis lounges. A lounge provides a safe, clean, and comfortable place for people to consume cannabis, and it keeps the smoke away from the people who don't want it. Smoking cannabis is not allowed in many places, and lounges give people an opportunity to consume without breaking the law."
Our next expert says his marijuana dispensary network is watching the development of marijuana lounges like a hawk to position itself for new opportunities. Like coffee shops, we could see marijuana dispensaries sell a product and provide customers a spot to enjoy it in the same location.
Mikel Alvarez is the Vice President of Retail Operations for Terra Tech Corp. (OTCMKTS: TRTC), the largest publicly traded cannabis company in the United States, with medical dispensaries in California and Nevada. 
"Grabbing a cold one at the corner pub after work while watching a game can only be improved by legally consuming your favorite strains in a cannabis lounge. We are soon going to see legal cannabis consumption lounges where you can enjoy a wide variety of cannabis products by knowledgeable budtenders. The future is still a little unclear what the regulations will be around these lounges; however, they are not too far away. Blum has kept a close watch on the full legalization of these lounges to be able to property position itself to act if the right opportunity presents."
With more marijuana lounges popping up, I wanted to find out what city could become the epicenter of this new movement...
Erik Blakkestad is a part of Client Relations for Electrum Partners LLC, an advisory services firm specializing in medical and recreational cannabis and ancillary businesses.
"The State of Nevada and the city of Las Vegas in particular understand the need for social consumption lounges better than anyone else. When you consider the fact that over 45 million people visit Las Vegas a year and a percentage of those legal tourists can buy cannabis but have no place to legally smoke it, there is a glaring need. Not to mention the nightclub companies, specialists in creating destination spots. It's not just as simple as creating a space where everyone can consume product. The emissions from people using vapes and pipes needs to be addressed in terms of taking employees' health into consideration. Social consumption lounges in Nevada are not a matter of if but when. The growing number of visitors purchasing product with no place to consume the product demands progressive thinking."
By now, you already know marijuana could be the defining social and financial event of this generation.
[pa_button slug="marijuana-industry-updates"]Pot Stock Investing[/pa_button]
And this FREE video reveals 16 reasons why cannabis stocks could break all profit records in 2018.
With profits of up to 1,000% - similar stocks in previous elections years soared to rare gains high enough to turn every $5,000 you invested into $303,700.
Follow Money Morning on Facebook, Twitter, and LinkedIn.
[mmpazkzone name="end-story-hostage" network="9794" site="307044" id="138536" type="4"]