The U.S. government shutdown is well into its third week, making it the longest shutdown ever. But this is more than a national embarrassment - it could mean less profit for you too.
Fortunately, we have a way around that...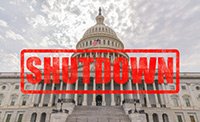 The shutdown could quickly wreak havoc on the financial markets by gumming up the works of the government agencies that perform many vital regulatory functions.
While all eyes are on U.S. President Donald Trump and his battle with Congress over a $5.7 billion border wall, investors must understand how the shutdown's impact on regulators will affect stocks, bonds, and other assets as the shutdown drags on.
Today, we'll show you the 10 ways the government shutdown affects you.
But there's opportunity here too.
We want to show you a company immune to the shutdown that Wall Street is overlooking right now.
And we expect the stock will break out by more than 70% this year, after the government shutdown ends...
Here's What the Government Shutdown Could Do to Investors
The government shutdown led to the furlough of 800,000 federal employees and the closing of nine federal departments and agencies after their funding ran out on Dec. 22. Those numbers could increase the longer this government shutdown continues.
Furloughed federal workers did not receive their paychecks for the first time last Friday, prompting worries about agency morale and concerns that many employees may bolt for the private sector. President Trump said he will sign an order to provide back pay for federal workers once the government reopens. But for many employees, missing just one paycheck could affect their mortgages, car payments, and their credit ratings.
How to Profit Off This $11.1 Billion Money Pool: By following a few simple steps, one IRS directive could help set you up to receive checks of up to $1,795 every single month thanks to a genius investment. Learn more...
But the shutdown extends beyond just employee pay and longer TSA lines at the airport.
The shutdown is having a profound impact on agencies' ability to regulate public markets, to produce critical public data, and to enforce oversight on a range of critical matters.
These are the 10 most important ways the shutdown affects your money:
This year, there could be as many as ten billion-dollar IPOs. Investors are awaiting IPOs from Uber, Lyft, Airbnb, Pinterest, Slack, Robinhood, and a slew of other tech giants. Those deals are now in jeopardy thanks to steep delays. Although both Uber and Lyft filed their registration documents before the shutdown, neither company has received any comments from the U.S. Securities and Exchange Commission (SEC). The SEC has also stopped looking at proxy and registration statements, and it isn't investigating potential white-collar criminals at full strength.
On a macro level, the shutdown could carve off 0.1% of U.S. gross domestic product (GDP) for every two weeks the shutdown continues, according to the White House Council of Economic Advisers. Bloomberg data says this figure could be even higher. Lower economic growth coupled with the uncertainty of the shutdown could send stocks reeling.
The Department of Justice's antitrust division ran out of funds on Jan. 4. This has already delayed the judicial process on the final court approval of CVS Health Corp. (NYSE: CVS) and Aetna's $69 billion deal. But the antitrust division will be unable to engage in merger enforcement or to offer any notes or insights into any other deals that have been announced in the last three weeks.
In addition to not completing routine food inspections, the Food and Drug Administration is close to running out of funds needed to review new drugs. That will affect drug pipelines, investor sentiment in the biotech sector, and potentially affect any firms that are cash-starved. Volatility will likely pick up for biotech stocks as the shutdown continues, and speculation on the future of various projects could lead to possible M&A deals that can't be reviewed by the SEC.
Your tax returns could be delayed. President Trump has assured Americans that they will receive their tax refunds on time this year. However, it appears clear that Trump isn't paying attention to the stress placed on the agency just months before the height of tax filing season. The IRS is operating with just 12.5% of its typical workforce, and it is well behind schedule with filing returns. By Feb. 2, 2018, the IRS had received 18.1 million tax returns and processed about 6.1 million refunds. This year, the IRS is already behind during the first year of implementation of the new Tax Cuts and Jobs Act.
The Commodity Futures Trading Commission (CFTC), which oversees the U.S. futures markets, clearinghouses, and intermediaries, is running with just 9.1% of its staff (roughly 60 people). The CFTC has stopped releasing its "Commitment of Traders" report, a critical weekly report that offers insight into where managed money is placing their stakes in the oil, agriculture, and metals markets.
The CFTC isn't the only agency that isn't issuing data that can influence the U.S. markets. The U.S. Department of Agriculture has suspended the release of its monthly WASDE report, a critical supply-and-demand report in the agricultural commodity markets. The Department of Commerce will also see delays or suspension of its reports on housing starts, durable goods, retail sales, Q4 gross domestic product, and personal income and spending.
Fitch Ratings has warned that the ongoing shutdown could trigger a breach of the U.S. debt ceiling. Fitch warned that the shutdown may affect the U.S. Treasury Department's ability to make debt payments to creditors. If the United States fails to meet its credit obligations, it could fuel a downgrade in the creditworthiness of the United States, drive up borrowing costs for the country, undermine confidence in the U.S. financial system, and potentially fuel a sharp downturn in the U.S. stock market.
Although the Federal Reserve will remain open and generates its own revenue stream, U.S. central bankers could be flying blind during their upcoming meeting on Jan. 29-30. Should the government still be closed, the central bank may not have data on fourth-quarter GDP or updates on consumer spending and inflation, and it won't be able to fully assess the health of the U.S. economy while considering changes to U.S. interest rates.
Finally - and most importantly - the shutdown is wearing on the stocks of companies that provide products and services to the government sector. Defense stocks, healthcare companies that cater to Medicare and Medicaid, and firms that manage government-sponsored social services are all taking a hit during the downtime.
Now for the good news.
The government shutdown will end eventually.
And we've uncovered one stock that could see a big jump once the government reopens. This is the sort of event-based trade that just doesn't come along very often...
The Government Shutdown Makes This Stock a Must-Own
Join the conversation. Click here to jump to comments…
About the Author
Garrett Baldwin is a globally recognized research economist, financial writer, and consultant with degrees from Northwestern, Johns Hopkins, Purdue, and Indiana University. He is a seasoned financial and political risk analyst, with a focus on stocks, hedge funds, private equity, blockchain, and housing policy. He has conducted risk assessment projects for clients in 27 countries, and consulted on policy and financial operations for some of the nation's largest financial institutions, including a $1.5 trillion credit fund, a $43 billion credit and auto loan giant, as well as two of the largest Wall Street banks by assets under management.
Garrett joined Money Map Press as an economist and researcher in 2011, specializing in alternative strategies with an emphasis on fundamental and technical analysis.