Most investors are thrilled to see 2018 come to a close, but the New Year doesn't look much better. There's even a chance we'll slide into a bear market in 2019.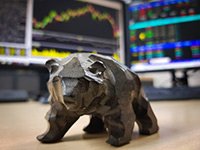 But that doesn't mean you won't be able to make money. Today, we'll show you the risks of a bear market and how to overcome them.
While stocks are up about 2% so far this year, they're still down over 7% from a year ago. And between the government shutdown, the trade war with China, and the Fed's rate hikes, stocks could tumble again at any moment.
Investors are right to prepare for the next bear market - or even a 2019 market crash - but that doesn't mean that you can't make money if the worst happens.
It just takes a little preparation...
Will There Be a Bear Market in 2019?
The longest-running bull market in history could be coming to a close, and there are three signs that a 2019 bear market is coming.
First, worldwide economic growth is stalling.
The International Monetary Fund downgraded its 2019 growth forecast last month from 3.9% to 3.7%. Even though this seems slight, it amounts to billions of dollars' worth of growth lost, and another sign the economy is slowing.
Don't Miss Out: The Treasury is sitting on an $11.1 billion cash pile, and a loophole entitles Americans to a sizable portion. Some are collecting $1,795, $3,000, or $5,000 every month thanks to this powerful investment...
Second, the ramping up of the major trade war between the United States and China could destabilize the economy.
The Trump administration started imposing tariffs on Chinese goods last January, scaling them up to reach $200 billion worth of exports by September. Now, even more tariffs are coming if a new trade deal can't be reached. And the two countries are miles apart.
The tariffs have already claimed victims in the stock market, and it could get even worse. Rising materials costs have been named as the culprit for the major General Motors Co. (NYSE: GM) plant closures and Apple Inc.'s (NADSDAQ: AAPL) declining sales.
Third, the Federal Reserve keeps raising interest rates, which is not good news for a market already in turmoil. The Fed is projecting two more rates hikes in 2019 alone.
While rate increases are prudent in some situations, an already volatile Wall Street will not react well to even more rate hikes, which are likely in 2019.
While we don't yet know how bad things will get in the coming year, investors can be proactive with their choices now.
A Safe Investment When the Stock Market Doesn't Cooperate
"Safe haven" investments can protect your money from market volatility.
And according to Money Morning Chief Investment Strategist Keith Fitz-Gerald, bonds are the best option.
You can buy traditional Treasury bonds on TreasuryDirect.com. Or you can buy bonds from some of the top corporations that will continue to bring in revenue and won't find issues with paying investors when it's time.
Income-generating investments are an excellent way to protect your money during the next bear market. That's true whether it be a high-dividend stock, a bond or bond fund, or a real estate investment trust.
When you invest in these assets, you get paid to hold them, and that's crucial in times of economic turmoil. For instance, you can currently get a yield of 3.02% from a 30-year U.S. Treasury bond, which is money that will come in annually as long you own the bond.
Treasury notes and bonds are attractive for one more reason. There is a lower risk of default because these investments are backed by the U.S. government.
But there's an even better way to collect this income than buying bonds directly...
A Less Risky Way to Profit During a Bear Market