A U.S.-China trade war hasn't favored the technology sector. But we're still seeing the current dip in the chip market as an incredible discount on semiconductor stocks.
In fact, our favorite chip stock undercuts the industry by 21% right now. And though it sounds unbelievable, that stock is projected to earn almost 40% in profits for today's investor in a matter of months.
Thanks to a massive oncoming catalyst, we know the current tariff situation with China can't stymie the U.S. economy for long.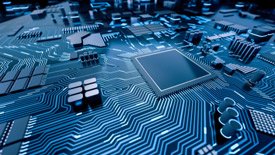 The semiconductor sector is actually a good leading indicator for the overall market. And it's revealed signs of life in recent weeks, peaking ahead of the S&P 500.
But that was only a hint of things to come for this industry - new innovations that will far outweigh the impact of any global controversy.
Our favorite semi stock is vital to this movement, and it's poised to profit the most once it kicks off. But first, here's why there's no stopping chip stocks.
5G Can Withstand a Trade War
Not only will the trade war eventually end, but the spread of fifth-generation wireless communications - or 5G, for short - will propel semiconductor shares to extreme new heights.
These companies already provide the chips used in everything from networks, to cloud storage, to all the smart devices we use every day. 5G changes the status quo for everything they produce.
The 5G connection will utilize the cloud and offer data speeds 50 to 100 times faster than current 4G networks. It will also be part of key infrastructure for many different companies and industries.
And this is a huge market. The communications research firm CCS Insights predicts there will be 1 billion 5G users by 2023.
5G Is Coming: The tech breakthrough of the century could rest on this $6 stock - get all the details here.
That's why it pays to invest in companies providing the products and services getting 5G off the ground.
Our favorite chip stock is one of these.
And there is no better growth stock. We confirmed this by using our proprietary Money Morning Stock VQScore™ system.
This stock hit a perfect score of 4.75.
Here's the investment that could earn you tenfold profits once the 5G wave takes hold.
Our Top Semiconductor Stock Pick