In the global oil sector, there's risk... and then there's risk.
One is a quasi-artificial construct traders use to manufacture returns in a shaky market.
The "other" risk is all too real - and as we've seen in the images of burning oil tankers - very visceral. This risk is expensive and often deadly; it takes the form of bullets, missiles, torpedoes, limpet mines, armies on the move, and cutthroat Middle Eastern power politics.
The latest attacks on two oil product tankers just south of the highly strategic Strait of Hormuz once again puts this kind of risk at center stage in the oil market.
And unlike previous attacks (yes, there have been many others), this most recent is far more consequential.
So it's absolutely critical that you understand what's happened here - and what's likely to happen again...[mmpazkzone name="in-story" network="9794" site="307044" id="137008" type="4"]
The "Bad Old Days" May Be Back in the Persian Gulf
Most of us will remember Iran and Iraq waged a brutal, bloody war from 1980 to 1988.
What many Americans might not know is as many as 1.1 million people were killed in a conflict that featured the very worst of modern warfare: poison gas, child soldiers, human wave attacks, and deliberate targeting of civilians, among other atrocities.
The fighting (which due to my career in intelligence I sometimes watched from an uncomfortably close distance) and human cost were so terrible that the destruction of more than $1 trillion of wealth and oil infrastructure was almost an afterthought.
The United States, with its obvious strategic interests in the region, wasn't a direct combatant at all, but nevertheless had forces squarely in harm's way. The U.S. Navy protected neutral tankers in the Gulf during the so-called "Tanker War" phase of the conflict, which saw the two belligerent air forces target neutral shipping in the Strait of Hormuz region.
NIGHTMARE HEADLINES: Carrier U.S.S. Ronald Reagan Burns Off Taiwan Coast; Thousands of U.S. Sailors Feared Lost... China Supreme in South China Sea; Demands Expected by 12 Noon... Click here to see the horrifying way it could happen.
By the time the "Tanker War" was over, Iranian and Iraqi attacks had damaged some 546 commercial vessels and killed nearly 440 civilian sailors. The American guided missile frigate U.S.S. Stark suffered 37 dead and 21 wounded when it was struck by Iraqi Exocet anti-ship missiles.
Compared to this historic carnage, recent attacks in the Persian Gulf have been limited - at least for now.
A May 13, 2019, attack targeted four ships in waters off the main United Arab Emirates (UAE) bunkering port of Fujairah just southwest of the Strait of Hormuz. All those tankers were empty, and there were no injuries.
A day later, there was a drone attack on portions of the large Saudi East-West Pipeline transporting crude oil west from the country's primary fields in the Eastern Province to embarkation terminal facilities on the Red Sea near Jeddah.
Once again, no causalities.
During last week's attack, however, the tankers were carrying "volume," which is to say oil products. The damage was extensive; crews on both vessels had to be evacuated, and there were injuries.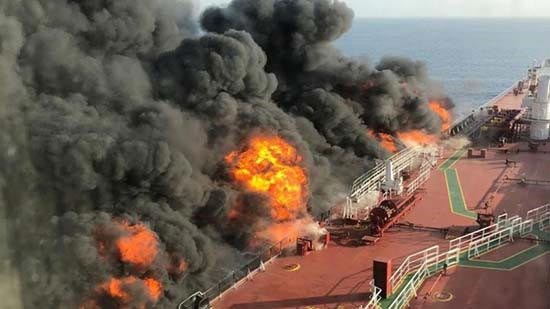 June 13: view from the bridge of the Front Altair, one of two tankers hit in the Gulf of Oman. Source: IRIB (Islamic Republic of Iran Broadcasting); IRIB obtained the photo from a regional press pool.
According to my sources in the region, both the U.S. Navy and the Iranian Islamic Revolutionary Guard Corps, whose navy (IRGCN) controls Iranian waters in the Persian Gulf region, scrambled nearby forces following the attacks.
At the center of current U.S. charges is a conclusion that IRGCN high-speed attack vessels orchestrated both the May 13 and June 13 attacks.
YOUR "TO-DO" LIST FOR TODAY: Wait for the mail. Cash the big, fat royalty check when it arrives. Learn more...
Washington has said it would provide evidence for both attacks, but it has yet to do so for last month's episode. The U.S. Navy said that an examination of debris following yesterday's attacks could ascertain origin.
As Many Clues Point to Iran as Point Away from It
According to sources within the U.S. military planning apparatus, the focus of attention is Iranian Zolfaqar semi-submersible, high-speed torpedo boats.
One is pictured below in an official photo; note the torpedo tube starboard midship.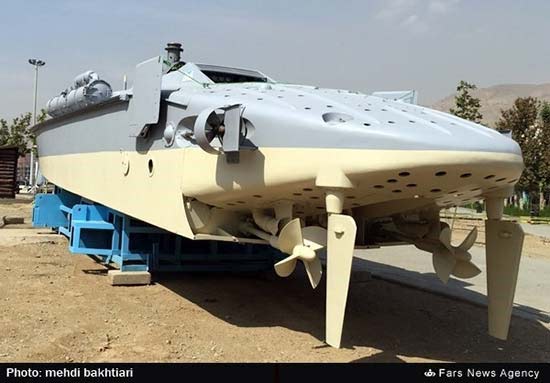 Tehran has flatly denied the charge that it attacked the vessels either in May or yesterday.
My Iranian sources pointed out that yesterday's attack made no sense, given that President Hassan Rouhani was hosting Japanese Prime Minister Shinzo Abe at the time in Tehran. Both tankers hit last week were en route to Singapore and Taiwan, respectively.
On June 14, Iranian Foreign Minister Javad Zarif (again) angrily denied that his country had any involvement in either the May 13 or June 13 attacks. He categorically condemned U.S. Secretary of State Mike Pompeo's statements linking Tehran with the events.
Zarif said the United States had not "a shred of factual or circumstantial evidence," further labeling Pompeo's approach "sabotage diplomacy." It's perhaps a sign of the times that this exchange between the U.S. and Iranian foreign policy officials took place on Twitter.
THE ULTIMATE OIL PLAY: 548% in potential profits from a potentially endless stream of oil royalty checks designed to get bigger and bigger. Learn more...
Sources in my Persian Gulf regional network also pointed out that there were no indications of any unusual IRGCN deployments in advance of the attack yesterday.
On the other hand, these same sources acknowledge the attack did bear the markings of a torpedo launch from a boat, rather than vessels incurring damage from a deployed mine in the water, or surface-to-surface or ship-to-ship missiles.
Meanwhile, my sources both in Iran and Iraq are concerned that, as in May, this attack will be quickly paralleled by another in the region - perhaps onshore this time.
Here's What This Means for Oil Price Action
Shortly after last week's attacks, crude oil prices spiked by 4%. Those prices then came down again, closing at about 2% up for that day's trading session.
In fact, crude prices have been drifting lower ever since. That, too, is significant.
This complacency indicates that such events are still perceived by the market as isolated, rather than serial - as they were during the Iran-Iraq War. In other words, the market sees attacks like this as having no prolonged impact on oil trade or pricing.
That may change in a hurry if the ripples of uncertainty are reinforced by accelerating events. Such a change would be an unpleasant surprise to investors suddenly caught on the back foot.
The best way to protect against such volatility is to be prepared with a position in an exchange-traded fund that tracks New York-traded West Texas Intermediate and London-traded Brent crude, like the U.S. Oil Fund LP (NYSEArca: USO) or U.S. Brent Oil Fund LP (NYSEArca: BNO).
My paid subscribers, of course, will get my research recommendations for playing sudden oil moves directly.
In terms of stability, though, my long and sometimes unpleasant experience in the region leads me to see it differently than your average investor...
Make No Mistake: We're in a New Normal Now
The whole situation changes abruptly if throughput access is threatened at the Strait of Hormuz - the passage connecting the Persian Gulf to the north with the Gulf of Oman, the Arabian Sea, and the wider Indian Ocean to the south.
Some 22% of the world's entire daily transit of crude (and over a third of what moves via tanker) moves through the strait.
I have physically stood on the western shoreline of Hormuz. You can clearly see Iran to the east, as innumerable vessels (both large and small) move in the foreground through the narrow connection. The navigable strait waters are only about a mile and half wide.
While the Iranian Islamic Revolutionary Guards Corps Navy has conducted exercises to signal it can impede flow through the strait, direct confrontation with the United States, or, more pointedly, the U.S.S. Abraham Lincoln and U.S.S. John C. Stennis carrier battle groups, is unlikely.
Strikes to create market angst, on the other hand, are always a possibility.
As one Iranian contact wryly put it, "There are hardly enough U.S. war ships in the Persian Gulf to provide private escort services for each ship plying there" - an all too clear reference to the number of individual targets available to play on the market's ability to counter instability.
As an Iraqi colleague added last evening, "Aside from the logistical complexity, should the U.S. counter with some sort of flagged convoy arrangement, Iran will consider it an act of aggression and could move against the Strait [of Hormuz]."
Welcome to the new normal in the Persian Gulf.
Here's the Truth About the Great Oil Panic of 2019
You've seen how cutthroat Middle Eastern geopolitics could potentially bring massive volatility to the crude sector this year. But that's just one small piece of a very complicated, tricky puzzle. There's more - much more - in play in what Kent's calling the most "shocking prediction of my 40-year career." Get the details...
Follow Money Morning on Facebook and Twitter.
About the Author
Dr. Kent Moors is an internationally recognized expert in oil and natural gas policy, risk assessment, and emerging market economic development. He serves as an advisor to many U.S. governors and foreign governments. Kent details his latest global travels in his free Oil & Energy Investor e-letter. He makes specific investment recommendations in his newsletter, the Energy Advantage. For more active investors, he issues shorter-term trades in his Energy Inner Circle.