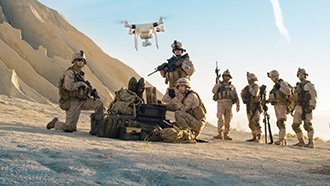 With the war drums beating in the Middle East, investors are looking for the best defense stocks to buy right now. Last night, leaders of the Iranian Revolutionary Guard announced their military had shot down a U.S. drone and proclaimed that the nation is "ready for war."
While the Islamic Republic's media arm IRNA claims that the American drone passed into the nation's air space, the U.S. military claims a surface-to-air missile hit the drone over international air space and the Strait of Hormuz, a critical seaway for global oil shipments.
Investors recognize that in times of geopolitical threats and uncertainty, defense stocks provide appreciation upside and reliable dividend streams. They also operate in a "must have" industry that is virtually recession-proof due to the United States' commitment to a strong military.
A Shocking New Technology Could Be the Greatest Wealth Creator of All Time - and This Just-Released List of Recommendations Could Make You More Than $565,640. Click Here...
To identify the best defense stocks to buy, we tap into the Money Morning Stock VQScore™ system.
This algorithm assigns more than 1,500 profitable companies with a proprietary score that signals when investors should buy, sell, or hold a stock.
Today, the VQScore system flashed a "Strong Buy" signal for one of the most iconic defense companies in the United States.
Here it is...
Armed and Ready: The Top Defense Stock to Buy for June
[mmpazkzone name="in-story" network="9794" site="307044" id="137008" type="4"]
Earlier this morning, the Pentagon announced it is investigating the takedown of a U.S. drone by Iran.
The missile attack comes not long after reports that Iran attacked an oil container ship in the Persian Gulf.
Now, President Donald Trump is considering an uptick in the number of troops deployed to the Middle East. 1,000 U.S. troops are scheduled to head to the Middle East at the time of this writing.
With all of this tension building, the top defense stock to buy right now is Raytheon Co. (NYSE: RTN). Based in Waltham, Massachusetts, Raytheon is the nation's third-largest defense contractor by revenue.
But a recently planned merger with United Technologies Corp. (NYSE: UTX) stands to make the company the second-largest by annual revenue. News of that proposed merger recently fueled a pullback in the stock due to concerns about industry competition, shareholder risk, and synergies between the firms.
The Pentagon is exploring the risks of this planned merger, and there is a chance that the deal will fall through (which would only push RTN stock higher). Activist shareholders on both sides are already lining up to convince fellow shareholders to kill the deal when the time comes for a vote.
But regardless of the deal's potential, it's hard to ignore the numbers and the upside from its position in the defense sector...
First, for a company of its size and reach, Raytheon's stock is cheap.
The company is trading at 15.3 times estimated 2019 profits of $11.60 a share - a figure that is a discount to peers like Honeywell International Inc. (NYSE: HON), Safran (OTCMKTS: SAFRY), and Lockheed Martin Corp. (NYSE: LMT).
It has a strong balance sheet with just $2 billion in debt. And its total debt-to-capital ratio sits at just 29.4%, compared to an industry average of 68%.
The firm even pays a 2.13% dividend, which outpaces its rivals' 1.9% average. Its gross profit margins, operating profit margins, and net profit margins all outpace the industry average as well.
But Raytheon's standard financial metrics tell just half of the story of why it is a breakout stock with a very high VQScore.
As you'll see, the firm is about to make major strides in the increased competition for Pentagon dollars.
Raytheon's Hypersonic Surge
As we've noted, the United States is trailing China and several other geopolitical rivals on next-generation missile technology.
At the forefront is the increasing concern about China's hypersonic missiles and the possibility that our top economic rival could sink American warships across the Pacific Ocean.
The Pentagon and Congress have increased the focus on developing technology that surpasses the known military systems of China, Russia, and other rivals.
Raytheon - as it turns out - has quickly established itself as a leader in the push for hypersonic missile production. This week at the Paris Air Show, the firm announced its partnership with contractor Northrop Grumman Corp. (NYSE: NOC) on a secret project to produce hypersonic cruise missiles with engines printed using 3D technology.
The two companies have been working for four years with the U.S. Air Force and Defense Advanced Research Project Agency (DARPA) on the ultra-sensitive Hypersonic Air-breathing Weapon Concept program, also known as HAWC.
The defense contractors have been testing the technology for years and expect it to be deployed in the next couple years.
Tom Bussing, the Vice President of Raytheon's advanced missile system division, said in Paris this week that these new missiles are "fundamentally game-changing."
"There's nothing like it," he said.
Hypersonic missile technology will be a priority in this year's military budget. Although many Democrats are pushing for a reduction in spending of the Department of Defense, party leaders with years of experience on the appropriations and defense committees understand the constant threat from China and other nations that would like to see America's naval dominance diminished in the new century.
With this new tech, Raytheon and its partners may have just secured another few decades of dominance for the U.S. Navy and Air Force.
The Bottom Line
The near-term and long-term outlooks for Raytheon are positive.
In the near term, ongoing tensions in the Middle East could be a boon for defense contractors - particularly at a time that investors are flying to safety over broader geopolitical concerns.
In the long term, synergy with UTX Technologies would create a diversified military and space technology giant with significant revenues. U.S. military spending is unlikely to see cuts in the years ahead, and more money is likely to be shoveled toward defense technologies in which Raytheon specializes.
Raytheon currently has a VQScore of 4.75, a top rating that signals a big move on the horizon for the defense contractor.
Shares currently trade near $180. And we think the stock could easily top $230 by the end of the year thanks to breakthroughs in missile technologies and increasing geopolitical tensions around the globe.
You Can Make More Than $565,640 with These 5G Stocks
FACT: If you had invested in Blackberry after the 3G rollout, you could've made 1,947% in less than one year.
If you had invested in Apple after the 4G rollout, you could have made 56,465%. That's enough to turn $1,000 into $565,640!
Now, 5G is coming fast. And the gains could be spectacular.
That's why our Silicon Valley insider Michael Robinson has just released the most comprehensive 5G wealth report on the planet.
We have a limited number of copies available. Learn how to get your copy here.